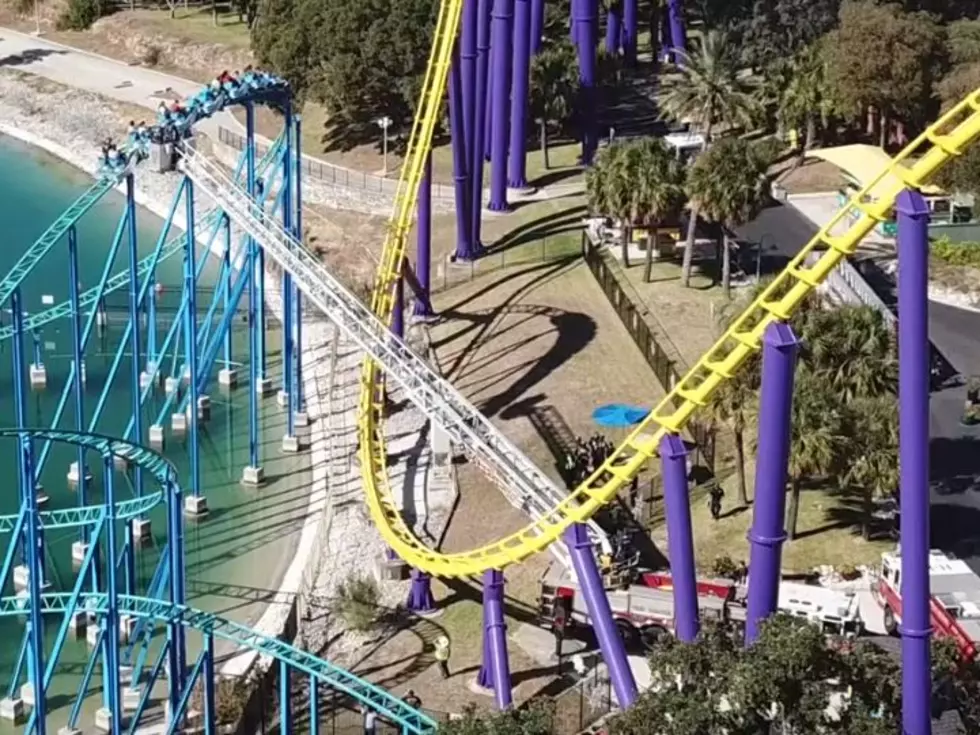 Passengers Rescued from Sea World Coaster
Kens5.Youtube
So yesterday, my son and I made a spur of the moment road trip to San Antonio to Sea World.  It had been about three years since I had been there.  We were ready to try two coasters for the first time.  The all-new Texas Stingray wooden coaster and the Wave Breaker: The Rescue Coaster.  We enter the park and start rushing to the Wave Breaker.  As the Wave Breaker comes into view, we noticed that the ride cars were stopped at the very top.  As we get closer, we realize that there are people in the ride cars.  It was at that point that Sea World Employees started turning guests away from the back of the park, where all the thrill rides are located.  About 15 minutes past and the employees started pushing us back even further.  We had no direct view of the coaster from the park.  It wasn't until after we took off, that saw what was really happening.
We drove and went down Military Dr, which is where the back entrance of Sea World is located. This is where the employees park and enter and SW deliveries come in.  That is where we saw fire trucks and ambulances pulling into the park.  Check out the drone footage obtained from  KENS-TV.  If you are wondering why the park is so empty.  Sea World was pretty much evacuated past the kiddie area. According to the Sea World Website, the tallest peak on the ride is 61 feet and that is exactly where the ride stopped. Guests in the front were facing downward on the track, while the back had guest-facing upward.  Sea World representatives have issued the following statement:
"Yesterday at 12:51 pm the Wave Breaker roller coaster stopped during the ride.  Thirteen guests were onboard. Consistent with our established safety protocols we worked with the San Antonio Fire Department to safely evacuate all guests on the ride.  We apologize for the guest inconvenience. The safety of our employees and guests is our top priority."
Depending on what the malfunction was, I will be back at Sea World to ride those two coasters.  For now, back to Fiesta Texas, I go.  Check out my favorite thrill rides below.
JP's TOP ROLLER COASTERS
Enter your number to get our free mobile app