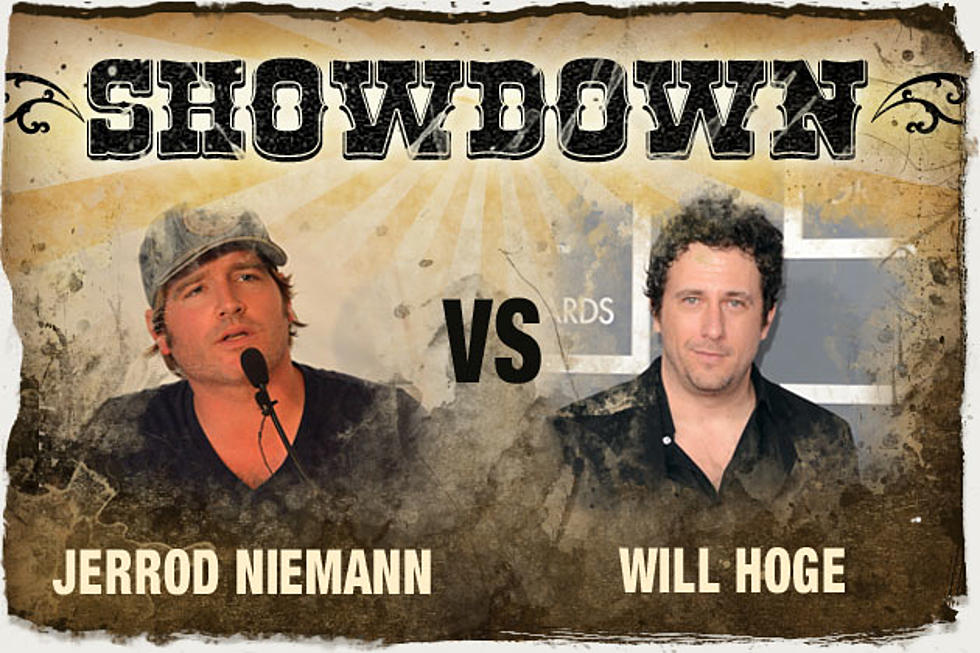 Jerrod Niemann vs. Will Hoge – The Showdown
Jason Merritt / Rick Diamond, Getty Images
Jerrod Niemann and his fans seem up for any challenge. Earlier this week, the singer's new song 'Drink to That All Night' took care of 'I Hold On' by Dierks Bentley. It was a close contest, but in the end, a push from the Kansas-born singer's fans moved the song to a new Showdown round against a song famous for being part of a television commercial. 
Will Hoge's 'Strong' is beginning to climb the country charts after first debuting in the new ad campaign for Chevrolet trucks. The acoustic ballad tells of a man you can rely on in good times and bad. It's a satisfying description of someone we all should be lucky enough to know. Does the singer have the fans to top Niemann's budding hit, however?
Listen to clips of both Niemann and Hoge's songs and vote for your favorite here. You can vote once every hour until this Showdown ends on Friday at 8AM ET, so come back and vote often to be sure your artist wins. The winner of this matchup will face a new challenger on Friday.
Listen to a Sample of Jerrod Niemann, 'Drink to That All Night'
Listen to a Sample of Will Hoge, 'Strong'
Showdown Rules: The song with the most votes wins, and the winner goes on to face a new challenger in the next Showdown. Vote as much as once per hour online. If a song wins five Showdowns in a row, it will be retired into the Taste of Country Showdown Hall of Fame to allow for new songs to compete. Some songs will be considered for a second Showdown if voter turnout is healthy in a losing effort.