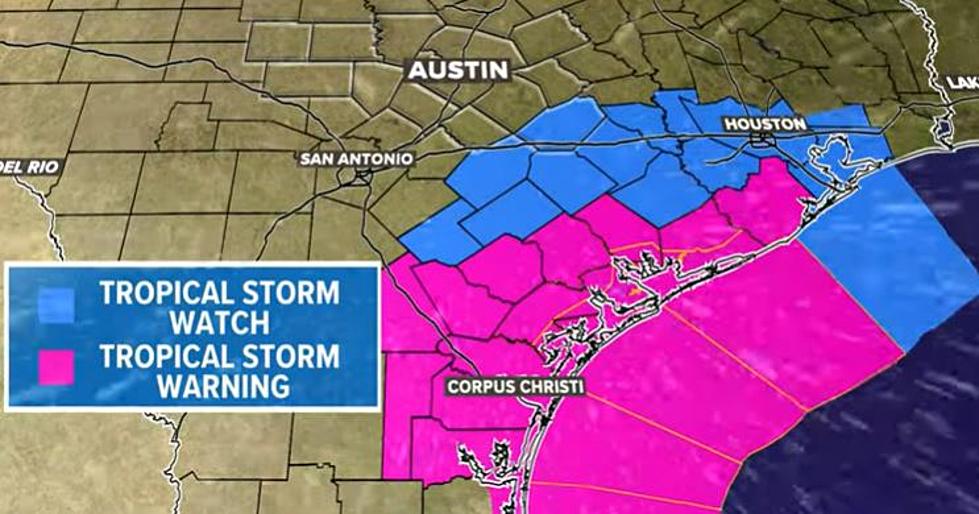 Victoria Under Tropical Storm Warning, Hurricane Watch Issued for Coast
KVUE Youtube
TROPICAL STORM WARNING FOR VICTORIA 
Victoria is now under a Tropical Strom Warning.  A Tropical Storm Warning means tropical storm-force winds are expected somewhere within this area within the next 36 hours as reported by the Weather Channel.  
HURRICANE WATCH ISSUED FOR COASTAL AREA: 
In a rapidly changing situation in the gulf.  A Hurricane Watch has just been issued for the middle Texas coast until further notice for the following counties: Calhoun, Aransas, Refugio, Jackson,& Matagorda counties.  Please be on the lookout for the latest weather updates with KIXS108. Things can change at a moment's notice when it comes to the tropics.
POSSIBLE EFFECTS FOR VICTORIA  COUNTY:
WIND - LATEST LOCAL FORECAST: Tropical-storm-force winds remain possible - Peak Wind Forecast: 25-35 mph with gusts to 45 mph
A FLASH FLOOD WATCH IS ALSO IN EFFECT FROM 7 PM CDT THIS EVENING THROUGH TUESDAY MORNING. 
Peak Rainfall Amounts: Additional 3-6 inches, with a locally higher amount.  
POTENTIAL FOR FLOODING: 
The potential for flooding rainfall will be the most widespread threat from Nicholas, regardless of how much it strengthens  Bands of locally heavy rain are beginning to wrap ashore into the Texas and Louisiana coasts as a surge of deep moisture arrives. That wet pattern might last for several days through at least the first half of this week.
Rain total estimates as of now:
-8 to 16 inches (locally up to 20 inches) across parts of the middle and upper Texas coast.
-5 to 10 inches across the rest of coastal Texas into southwest Louisiana.
Hurricane Preparedness
KEEP READING: Get answers to 51 of the most frequently asked weather questions...