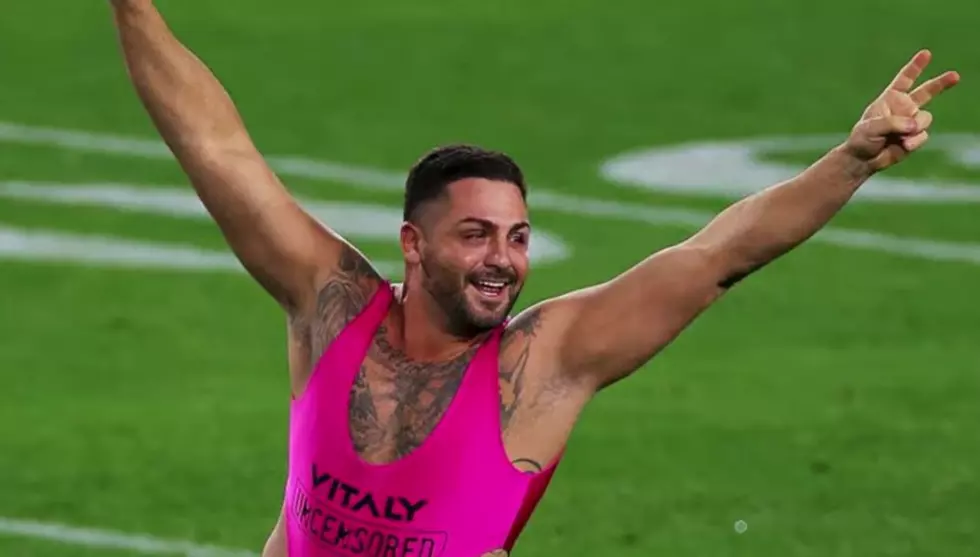 The "Why" Behind Super Bowl 55 Streaker, Yuri Andrade
Photo Credit TPS/YouTube
Enter your number to get our free mobile app
Yuri Andrade, the 31-year-old, now infamous streaker from last Sunday's 55th Super Bowl has been identified and released from the Hillsborough County Jail. Andrade, who semi- streaked in front of millions of Super Bowl fans on Sunday night has allegedly been charged with criminal trespassing, a misdemeanor, and was released on a $500.00 cash bond.
For tons of fans watching the Super Bowl on Sunday, his stunt has been hailed for being one of the most memorable moments of the game!
Streams of endless commentary came from viewers who joked that Andrade's streaking stunt might very well be the most exciting play of Super Bowl 55, with messages on social media offering that the streaker made more yards than most of the players!
So why would Yuri Andrade streak during the Super Bowl?
Well, to answer that question, you need only to look at Andrade's flashy hot pink umm...swimsuit.
"Vitaly Uncensored," is the slogan on Andrade's swimsuit and that means famous prankster American Russian Youtuber, Vitaly Zdorovetskiy is behind the shenanigans.
Vitaly offers this explanation as to why he incorporates even family members like his own mother in streak pranks. "It costs 4 million dollars for a 30-second ad, this way ( referring to his coordinated pranks) it's free."
Sounds like Yuri's streaking stunt might have made him some serious cash!
So it is worth the money?
Watching the Super Bowl on Sunday I can attest that there was someone in our party who was cheering when Andrade ran onto the field. Apparently, they had bet that there would be a streaker at the Super Bowl and Andrade's prank made him money!
Sources like Fanbuzz.com  claim that in fact, Andrade's had placed a bet on a streaker being there as well and with a payout worth $345,000.00, Andrades took matters into his own hands!
Here is one of the stories behind mastermind Vitaly from the Youtube channel TPS.
This begs the question, " What would it take to get you to streak at a televised sporting event?" 
KEEP READING: Here are 50 of the most famous sports goofs