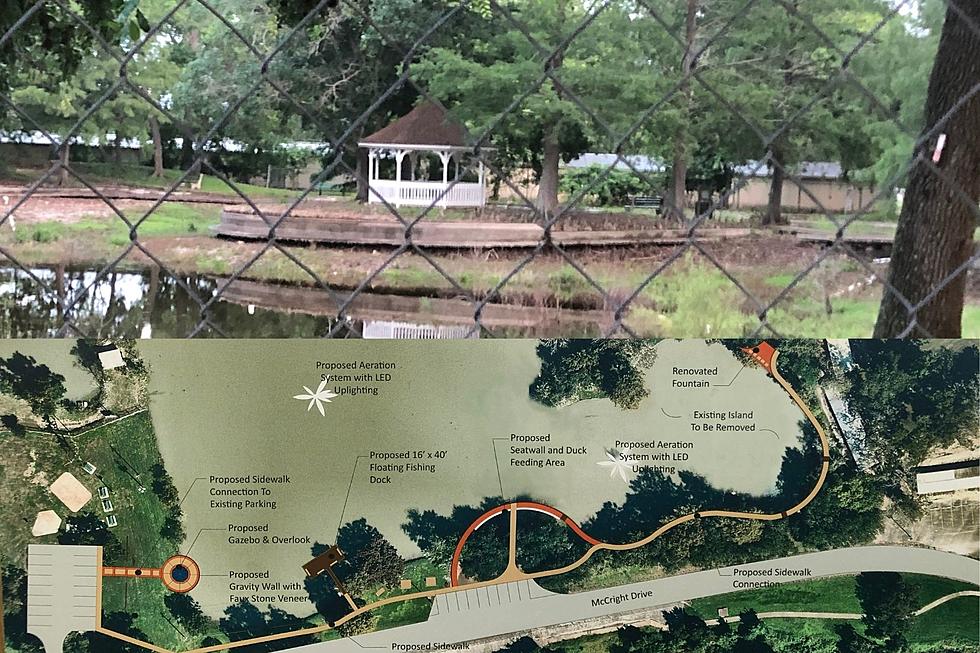 Victoria's Reimagined Duck Pond is Inching Closer to Reality
J.Padierna.tsm
DUCK POND PLANS:
As I drove to the park, I noticed that the duck pond wasn't the Forrest it once was. I will call this progress, I then I also noticed a renovation project was posted. I stopped in and took the time to read it and make notes.  Once the duck pond is completed it will be pretty awesome.  Check out some of the highlights.
A brand new Gazebo and Overlook will be constructed with a gravity wall with Faux Stone veneer.
A proposed 16 X 40 Fishing Dock
A seawall and duck feeding area.
TWO proposed aerations system's with LED Uplighting, one at the center of each pond.
Remove existing gazebo and island
Renovate the original back fountain where the steps go through the wateR.
OTHER EXCITING PARK NEWS
When completed this will continue the revitalization of Riverside Park! Segways are scheduled to debut in Riverside Park this summer.  Ashley from Flo Paddle Co confirmed last month in an on-air interview.  The Ninebot Max(similar to the Bird Segways) will be the scooter that will be available for rent in Riverside Park.   You can get more information about the Ninebox Max and how you will be able to navigate your segway through Riverside park by calling Flo Paddle Co at 935-2618.  Next up on the list is to bring back the train.
THE RIVER GOT HOW HIGH
While in the park, I also snapped this picture of the river level and this reminder of just how high the water got during the flood of 98'.  The red line marked the highest point of just over 33.8 feet. The water behind was the level of the Guadalupe River. As of this morning, the river was at 23.56 feet.  A river flood warning is still in effect for the Guadalupe River in Victoria.
LOOK: Here Are 30 Foods That Are Poisonous to Dogs
To prepare yourself for a potential incident, always keep your vet's phone number handy, along with an after-hours clinic you can call in an emergency. The ASPCA Animal Poison Control Center also has a hotline you can call at (888) 426-4435 for advice.
Even with all of these resources, however, the best cure for food poisoning is preventing it in the first place. To give you an idea of what human foods can be dangerous, Stacker has put together a slideshow of 30 common foods to avoid. Take a look to see if there are any that surprise you.