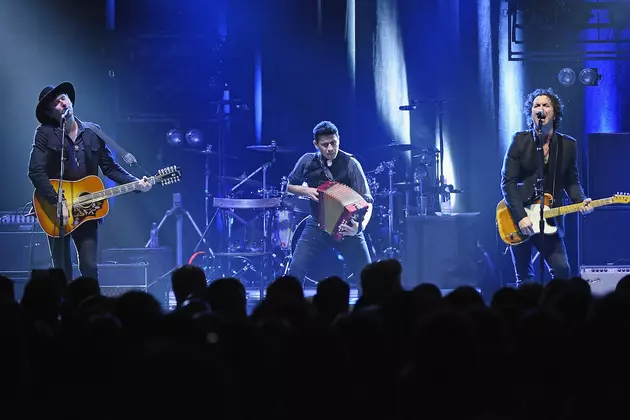 The Last Bandoleros Make 2017 Summer Tour Plans
Nicholas Hunt, Getty Images
The Last Bandoleros have helped made a name for themselves by touring with stars such as Sting, but this summer, the country rockers will get to see their name in the top billing spot. The quartet has announced plans for their own headlining tour.
The Last Bandoleros' Crooked Little Halo Tour is scheduled to kick off in Atlanta, Ga., on June 15. During the trek, the band will visit 14 cities through the beginning of September and introduce audiences to their Tex-Mex-meets-country sound. This tour comes on the heels of a string of shows that TLB played across Europe and South America alongside music legend Sting -- in other words, learning from one of the best.
Made up of brothers Diego and Emilio Navaira, as well as Jerry Fuentes and Derek James, the Last Bandoleros released their debut EP in September of 2016 and have been building a strong fanbase ever since. With a unique blend of Brit-pop, country-rock and Latin flair, the foursome has become known for their genre-bending music; the group insists that their fresh take on country is a result of all four members working together with equal input.
"On each song, it's four people playing," Diego Navaira tells The Boot of the band's creative process. "Here's us four — soup to nuts — doing everything ... we're playing on the album, we're recording the album, we're writing all the songs, we're playing all our instruments."
A full list of the Last Bandoleros Crooked Little Halo Tour dates is below. For more information and to purchase tickets, visit the band's official website.
The Last Bandoleros, 2017 Crooked Little Halo Tour Dates:
June 15 – Atlanta, Ga. @ Vinyl
June 16 – Nashville, Tenn. @ Basement
June 17 – Chattanooga, Tenn. @ Riverbend Festival
June 27 – Kansas City, Mo. @ Knuckleheads
June 28 – St. Louis, Mo. @ Off Broadway
June 29 – Chicago, Ill. @ SPACE
June 30 – Minneapolis, Minn. @ 7th Street Entry
July 1 – Milwaukee, Wis. @ Summerfest
July 23 – Pittsburgh, Pa. @ Hartwood Acres Ampitheatre
July 28 – Denver, Colo. @ Denver Botanic Gardens
July 29 – Taos, N.M. @ Kit Carson Park
Aug. 26 – Palmer, Alaska @ Alaska State Fair
Aug. 31 – New York City @ Mercury Lounge
Sep. 9 – Albuquerque, N.M. @ New Mexico State Fair
New Country Artists to Watch in 2017