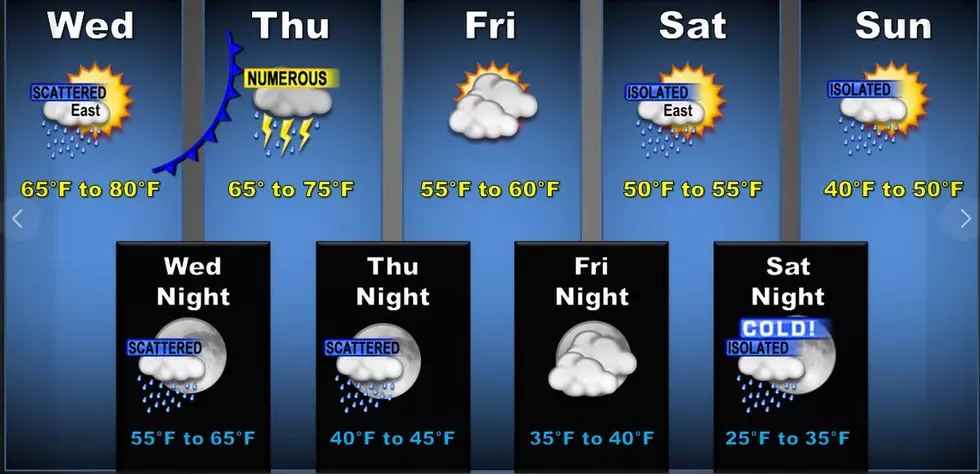 The Crossroads Prepare for an Arctic Blast
National Weather Service - Corpus Christi 5 Day Forecast
Enter your number to get our free mobile app
Many residents in the Crossroads are getting excited about an arctic front and I am one of them.  Usually, this means maybe 36-48 hours of cold weather with one cold night. Not the case this time!
This weekend we are getting ready for a cold spell that could last about five days. As for now the forecast(which will change a few times over the next few days) shows temperatures staying 58 or below for six days with everybody's eyes on Sunday/ Monday.  As of 2/9/21, the weekend weather forecast looks like this:
To get more specific the LOW on Sunday night is forecast to be 28 and Monday shows a HIGH of 40 and a LOW of 25 with a WINTRY MIX!  This means that there is an outside chance of snow in the Crossroads.  How cool would that be?
The last snow event came out of nowhere back in 2017 and of course, the Christmas miracle back in 2004!
In an article written back in December by Ingra.  The Farmers Almanac forecast 'The best chance for snow will be in late January.' Maybe they meant to say February. Snow or no snow, the Crossroads area will get to enjoy at least 3-4 days of true winter because that 100-degree heat will be here before you know it.
KEEP READING: Get answers to 51 of the most frequently asked weather questions...