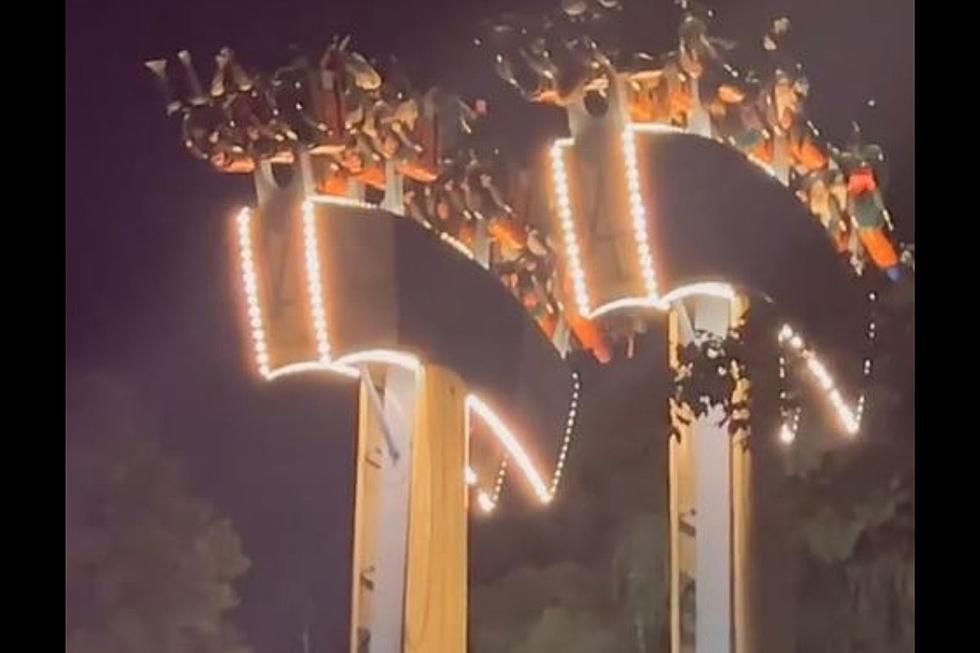 Riders Stuck Upside for 30 Minutes at Night on "Kamikaze" Style Ride
jaishira Tiktok
This might be the reason that some people do not ride amusement park rides! A ride malfunctioned mid-ride and stopped in midair! The ride is called the 'Lumberjack' and is very similar to a ride that most of us know called the Kamikaze!  The now-viral video posted by Jiashira shows the ride at a standstill! The riders were stuck upside down for 30 minutes! According to fox8.com, the ride's passengers were reportedly unloaded safely by 11:05 p.m. after the ride "inverted" at 10:40 p.m., a Canada's Wonderland spokesperson confirmed that riders were evaluated after the rescue, and the park confirmed two people said they experienced chest pain.
---
---
Back in August, a video was posted to social media that showed riders stuck on the 'Sky Screamer' at Six Flags Over Texas in Arlington in the middle of the Texas summer heat. According to the post, the air temperature was 103 degrees. It is not clear how long the riders were stuck. Will this video keep you from riding a theme park ride?
---
---
MORE RIDES GETTING STUCK: Back in July, riders were rescued from a ride called the "Fireball." If the ride looks familiar, most of us remember this ride being called the "Super Loop" in carnivals in Victoria and all around South Texas from back in the Day. This incident happened at the Forest County Festival in Crandon, Wisconsin. In multiple videos posted to TikTok, you see riders suspended upside down. News reports say riders were upside down for over three hours!
---
---
---
Viral Video Shows Massive Crack in Operational Roller Coaster This video has popped up many times on my TikTok feed, also in July,  It shows an operational rollercoaster swaying as the ride cars pass a cracked beam. Some people would call this the stuff of nightmares. I think this is great engineering! The fact that there is a crack in the beam and the ride still continues to function means it was built correctly. Of course, repairs are needed immediately and the ride has been shut down indefinitely! Check out the video below. This video was posted to the social platform by jojoglynn.
---
---
According to news reports, this roller coaster is called the Fury 325 and is located at North Carolina's Carowinds Park! Investigators will be on-site Monday to figure out what happened after a dad spotted a crack at the top of one of its steel support pillars. Check out the ride in its entirety...
JP'S FAVORITE THRILL RIDES