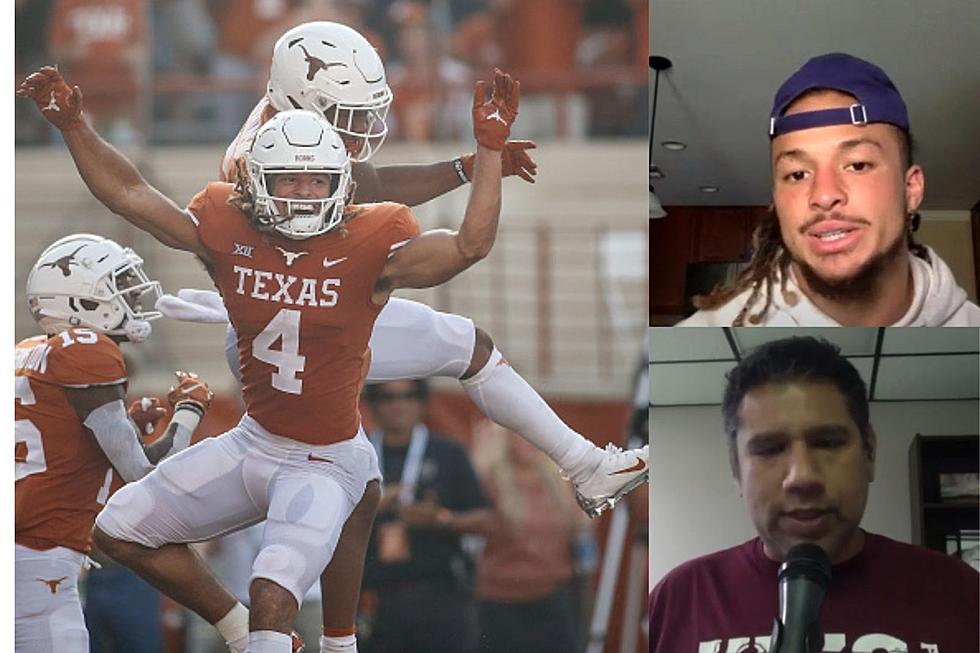 EXCLUSIVE: Texas Longhorns Star Jordan Whittington Previews Arkansas Razorback Game
(R) Getty Images (2L) Jim Beazy Youtube
KIXS108 is your home for exclusive Texas Longhorn access during the 2021 season. Thanks to our friends at Weber Motor Company, KIXS is featuring a weekly segment with Texas Longhorn and Cuero Gobbler Graduate Jordan Whittington. This week he broke down the Texas/Louisiana game and gives us the Texas Longhorn mindset heading into hostile territory as they take on the Arkansas Razorbacks this Saturday at 6 PM.
The Texas Longhorns opened the season with a win over Louisiana 38-18. It was a balanced attack by the Longhorns with 265 yards in the air and 170 yards on the ground. Texas Quarterback Hudson Card had an impressive debut. Card went 14 for 21 throwing for 224 yards with two touchdowns and ZERO interceptions.  Jordan Whittington led all receivers with 113 yards on 7 catches with one touchdown.  Bijan Robinson got it going on the ground with 103 yards on 20 carries. The Longhorns will ride this momentum into hostile territory this weekend against the Razorbacks.
The Texas Longhorns are currently ranked 15th in the AP College top 25 poll. This will be the first meeting between these two teams since 2014.
If you look back at history, this is a great way to start out the season. If you remember back sixteen years ago, The Texas Longhorns national championship season began the exact same way!  A home opener against the Louisiana Ragin Cajuns. Nearly on the exact date as well, Sept. 3, 2005. Will history repeat itself? First things first, let's beat the Razorbacks. Hook 'em Horns.
WORST ROADS IN VICTORIA
WEIRDEST DRUG BUST AT THE TEXAS BORDER
LOOK: Here are the 10 US golf destinations with the most courses per capita
Discover where you can find the best access in the country for your pick of courses, the unique terrain that lends itself to world-class golf, and what makes select clubs noteworthy.