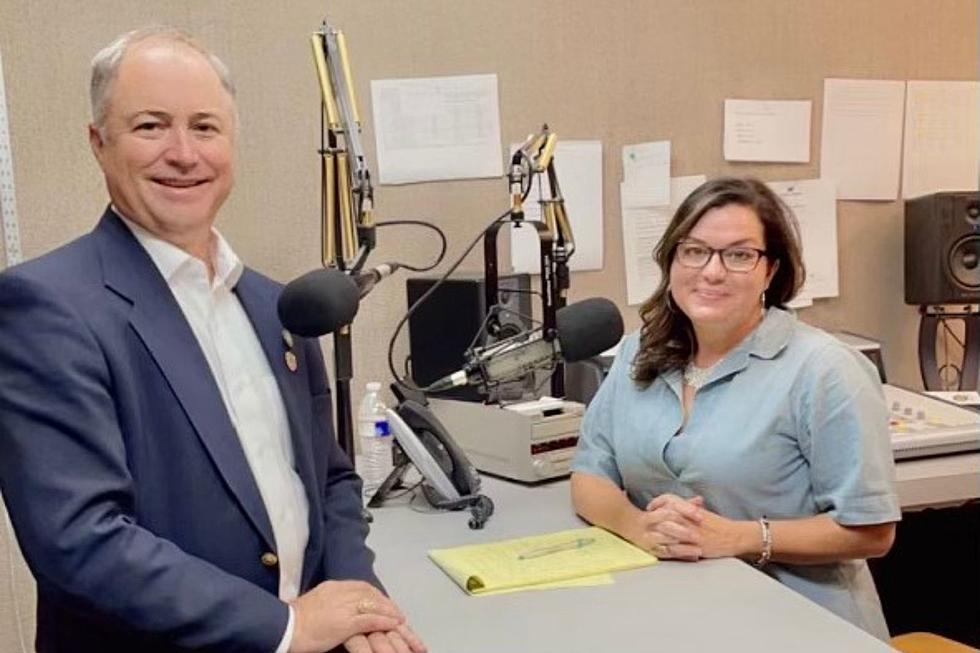 Crossroads, Meet Your Mayor, Mr. Jeff Bauknight
Photo Credit/Pooks/TSM
Victoria Mayor, Mr. Jeff Bauknight
Victoria Mayor, Mr. Jeff Bauknight, sits with Ingra Lee on the latest Townsquare Talks, Everything 361 podcast, which is sponsored by Victoria Air Conditioning, to introduce himself.
The theme of this episode is appropriately titled, 'Meet The Mayor'.
Here is what we learned.
Crossroads, meet your mayor, Mr. Jeff Bauknight.
This was Ingra Lee's first time to interview Mayor Bauknight. He was born in Austin and raised in Victoria. He is a degreed Mechanical Engineer and an Aggie -WHOOP- who owns his own business, Crossroads Mechanical, Inc. 
Three Adjectives That Best Describe The Mayor of Victoria.
One of the first questions Ingra Lee asks her guests on Everything 361 is to name three adjectives that best describe themselves. Mayor Bauknight had the best answer!
Our mayor teases,  " Adjectives that I feel best describe me or what my wife would say best describes me?"
We all laugh. Afterwards, he chooses, "Detailed, compassionate, and direct."
Did you know Mayor Bauknight and his wife lived in Ireland for a year and had a chance to travel all over the world with his job years ago or they could stay close to family and raise their family here? Well, now you know. He and his wife chose to raise their family here.
Check this next question out Crossroads!
What is one thing most people don't know about being mayor?
"The pay we receive... he elaborates... $3,000.00," then pauses when Ingra teases, " A month?" Mayor Bauknight laughs shaking his head at the comment and repeats, "A month, "No" he emphasizes... "A YEAR."
Being the mayor of Victoria or a council member is truly a service to the community.
Did you know Mayor Bauknight's vote counts as one vote, just like his council members?
Mayor Bauknight later elaborates, "When we have an issue, we take it to the City Manager. We make it a point to include him in all matters. Most people don't know that this is the structure of our council."
What is the hottest topic on council right now?
" Animal Control Ordinance. I think we have a solution," he offers, later adding, "We knew there were going to be changes made," additionally offering, " most likely we will rewrite the entire ordinance."
You can read more about the proposed original Animal Control Ordinance in the button below. 
You can meet the mayor, Mr. Jeff Bauknight yourself, and hear what he has to say about budget and roads, as well as what's coming to Victoria that's NEW by clicking here.
Mayor Bauknight encourages our community to join in the conversation by attending city council meetings. They are open to the public. More info here.
Townsquare Talks Everything 361 Podcast
You can hear this interview along with the previous episodes that include interviews with Victoria County Sheriff, Justin Marr, Victoria County District Attorney, Constance Filley and Chic-Fil-A owner, David Murphy on Townsquare Talks, Everything 361, hosted on all podcast platforms or you can listen by clicking on the Radio On Demand link on our Townsquare Media websites.
A huge thank you to our Townsquare Talks Everything 361 sponsor, Victoria Air Conditioning for believing in the mission of the Everything 361 podcast, by keeping the community connected and engaged with each other. " A place to hear about all of the exciting people in the 361 area code. Victoria Air Conditioning, "We are not comfortable until you are."
Ten Roads New Victorians Pronounce Incorrectly
The First Ten Crossroads Commandments
Things Only Victorians Will Understand
RESTAURANTS THAT VICTORIAN'S MISS & WANT