Chris Young, 'I Can Take It From There' – Lyrics Uncovered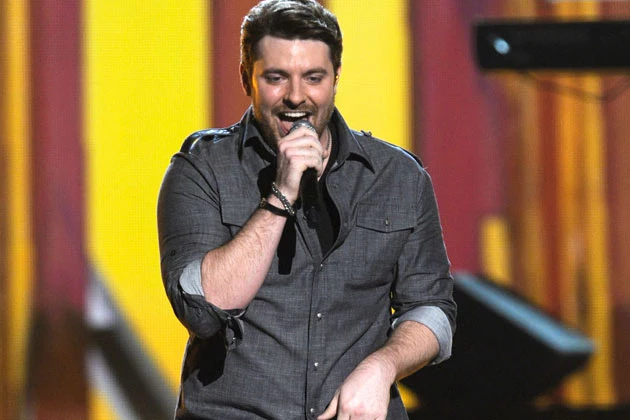 Chris Young's 'I Can Take It From There' lyrics fit the singer's sound and style to a tee. That's exactly what songwriter Ben Hayslip was hoping for when he began to outline the song, which he finished with Young and Rhett Akins.
"The night before I had that co-write, I was kicked back in front of the TV in my chair," Hayslip tells Taste of Country of writing the song. "I was trying to come up with a Chris Young groove… something with a Chris Young feel. I got it started right there in my chair, and I actually wrote the whole first verse at home and most of the chorus."
"Ain't nothin' goin' on in town tonight / Except the loud party crowd drinkin' too much beer / So baby tell me would it be alright / If we just take a little rain check and stay right here / I'm sure we could find somethin' to do," Hayslip wrote in the opening 'I Can Take It From There' lyrics.
"I brought it in to Chris and Rhett the next day, and they both loved it," the songwriter — who was just named ASCAP's Songwriter of the Year for a second time — recalls. "You just never know. Chris is a great songwriter, so you just never know if it's something he wants to say. That's what makes him a great songwriter and a great artist. He knows what he wants to say and what he doesn't want to say. It makes it a little difficult to find that, because you don't know where to start."
"I think it was maybe one of the first times we'd ever written with Chris, if not the first," adds Akins. "Chris immediately liked it. It kind of has that good country feel to it… it wasn't pop and it wasn't rock, it was just right down that thing Chris does so well. He jumped all over it, so we finished up the chorus and wrote the second verse and bridge."
"Grab a couple glasses and a bottle of wine / Walk down the hall and turn down the lights / And baby while you're at it / You might as well let down your hair / And I can take it from there / I can take it from there," they wrote in the chorus to Young's 'I Can Take It From There.'
"We probably finished that song in about an hour after we got there," Hayslip reveals. "It was really quick. It sounds so great."
"Chris has a great memory," notes Akins. "After we wrote the song, every time I'd see him somewhere, he'd be singing it. He would sing it and talk about it, so I had a good feeling he liked it, but he also writes a ton. He's one of those artists who's not lazy. He writes his butt off! He's got hundreds of songs that he's written and has his own songs on every CD, so for him to take to our song like he did, me and Ben had a good feeling we were going to get a cut out of it. We were excited when he actually did."
"Then one day, out of the blue, Chris sent me and Ben a text," Akins continues. "He said, 'I haven't told anybody yet, but you guys have my new single.' We were together, and we were ecstatic. We were pumped — like how you feel when you get a present for Christmas that you were hoping for [laughs]!"
More Lyrics Uncovered: Cruise Lyrics | Southern Comfort Zone Lyrics | Creepin' Lyrics | The Only Way I Know Lyrics | Over You Lyrics | Wanted You More Lyrics | Tip It on Back Lyrics | You Don't Know Her Like I Do Lyrics
Source:
Chris Young, 'I Can Take It From There' – Lyrics Uncovered