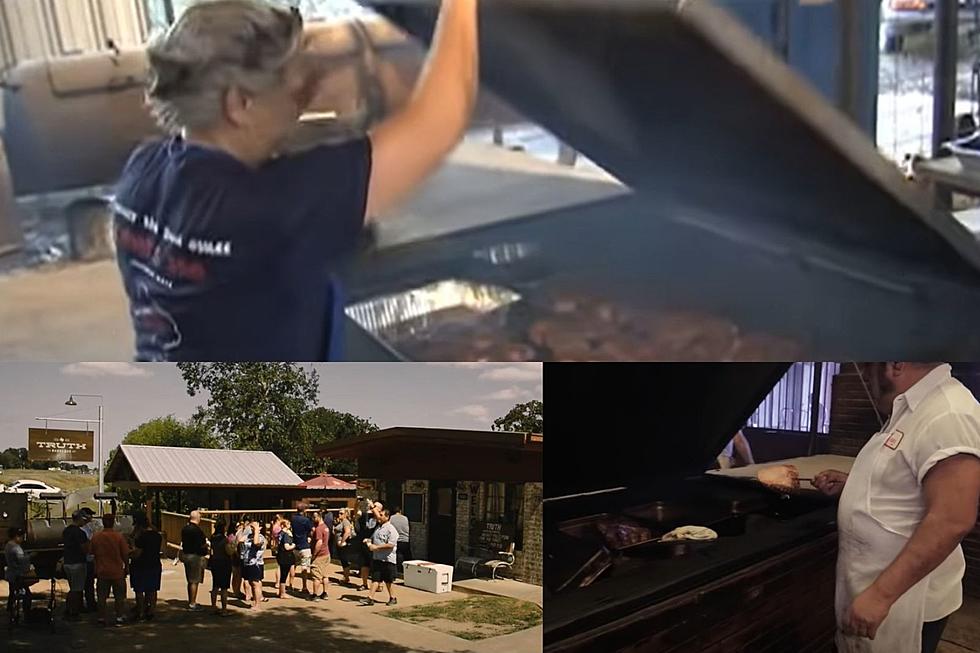 Three Texas BBQ Joints We Love or Know We Will Love
Texas Country Reporter/YouTube Aim Em and Claim Em on YouTube Quetorials on YouTube Canva-IL
The one BBQ joint I visit outside of my Victoria favorites.
Kreuz Market in Lockhart
Yesterday we made our monthly trek to Lockhart to visit what my husband claims is his favorite BBQ joint in the area outside of our favorites in Victoria. We cruise to Kreuz Market BBQ at least once a month to meet our sons from Austin. Usually, it's to hand-deliver them a check for college and maybe the BBQ just lessens the blow of all our kids and our money going to UT. That's a joke. We happily help pay for college and happily order our BBQ from Kreuz. Brisket is my husband's favorite, followed by sausage. I'm a ribs girl. Wait. I'm a sides girl that likes ribs. But I'm pretty partial to beans, mac, and cheese, pickles, onions, and avocado. Avacado is a must for me when it comes to BBQ. Kreuz has me covered. If you haven't cruised to Kreuz you need to go. Like right now. Here is a great video about Kreuz BBQ report from YouTube's Quetorials.
Truth BBQ in Brenham, Texas.
Let's just start right here with a video from Aim Em and Claim Em on Youtube from their BBQ Crawl series. Just look at that BBQ. I'm instantly hungry again and I just got back from lunch! Now that is the TRUTH!
Also, the TRUTH is that the guys around here have been talking about making the trek to Brenham to eat Truth BBQ for a while now. Great BBQ is worth the trek. We hear this BBQ is exceptional.
Last but not least, although it's a bit of a drive...Snow's BBQ
Right now at this very moment, everyone in the studio is talking about Snow's BBQ in Lexington. Apparently, it's run by pitmaster Tootsie and she is a really big deal. Here is a video about her and Snows BBQ on YouTube's Texas Country Reporter 
So now it's your turn. Where is a BBQ joint outside of the Crossroads that you would recommend or want to trek too soon? Let us know on the station app!
The BBQ Pit Isnt Just for the Men
On a side note, I have a friend named Denise who was on the pit a few months ago. She is the first woman I've ever met mastering the pit. I was stunned. I know that sounds overstated, but growing up in Texas I've only always have been in the kitchen with all the other women working on the sides. She was actually grilling tri-tip and it was incredible. Denise changed my entire perspective on grilling. I wonder of she has ever met Tootsie at Snow. OMG I've got to TAKE HER THERE!
LOOK: Here Are 30 Foods That Are Poisonous to Dogs
To prepare yourself for a potential incident, always keep your vet's phone number handy, along with an after-hours clinic you can call in an emergency. The ASPCA Animal Poison Control Center also has a hotline you can call at (888) 426-4435 for advice.
Even with all of these resources, however, the best cure for food poisoning is preventing it in the first place. To give you an idea of what human foods can be dangerous, Stacker has put together a slideshow of 30 common foods to avoid. Take a look to see if there are any that surprise you.