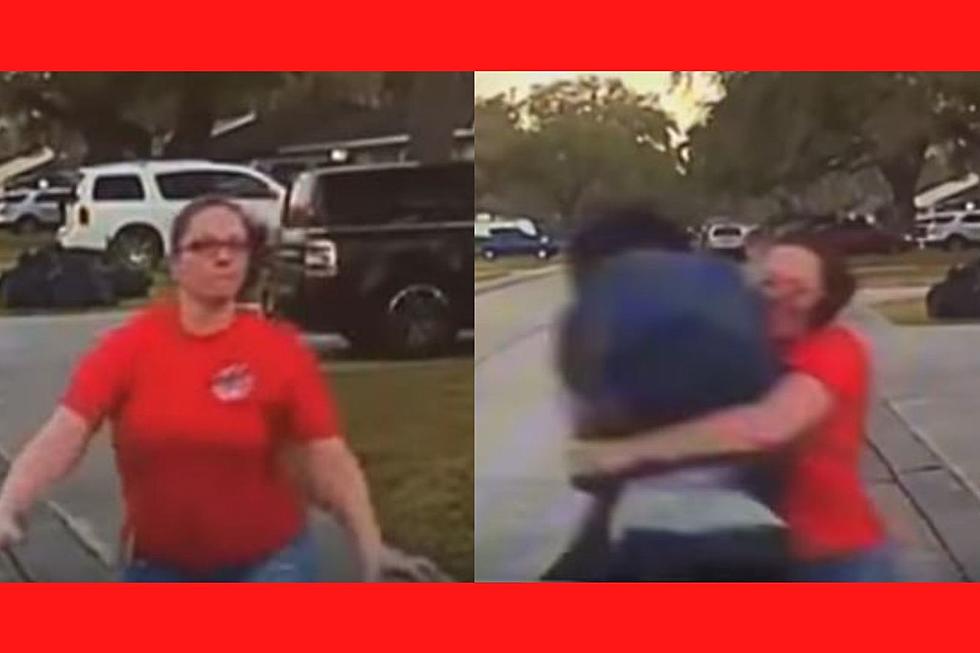 Texas Mom Tackles Man Accused of Peeping in Daughters Window
Inside Edition Youtube
In Texas, we don't mess around!  Like this mom, who caught a man suspected of peeping through her 15-year-old daughter's bedroom.  When this man was caught, he took off running and this Texas mom was waiting for him. Phyllis Pena caught and tackled this peeping tom, which was caught on the police dashcam.  Phyllis gets the assist for the Lake Jackon police department as she took matters into her own hands. Don't mess with Texas!  The Police were impressed with Pena's tackling technique.
According to KPRC News 2 Houston, Pena said she returned home from the store around 7 a.m. on Jan. 31 to find a man in her yard peeking into the window. Her 15-year-old daughter was not in the room at the time, she said.  Phyllis states her "First instinct was just to make sure he didn't go any further."
The video, which has now gone viral shows, Pena, on the lawn when Hawkins tries to run past her and down the street, according to police.  She just straight drops him.  Pena told KPRC that 'the cope fist-bumped me and he was like, ''Hey, so I heard the Texans are looking for a new linebacker.' Just in case you didn't know, the Texans are now looking for a new defensive end as JJ Watt and Texans have parted ways.
In a  news release from the Lake Jackson police. Hawkins was booked on charges of possession of a controlled substance, evading arrest, and resisting arrest.
MORE: See 30 toys that every '90s kid wanted