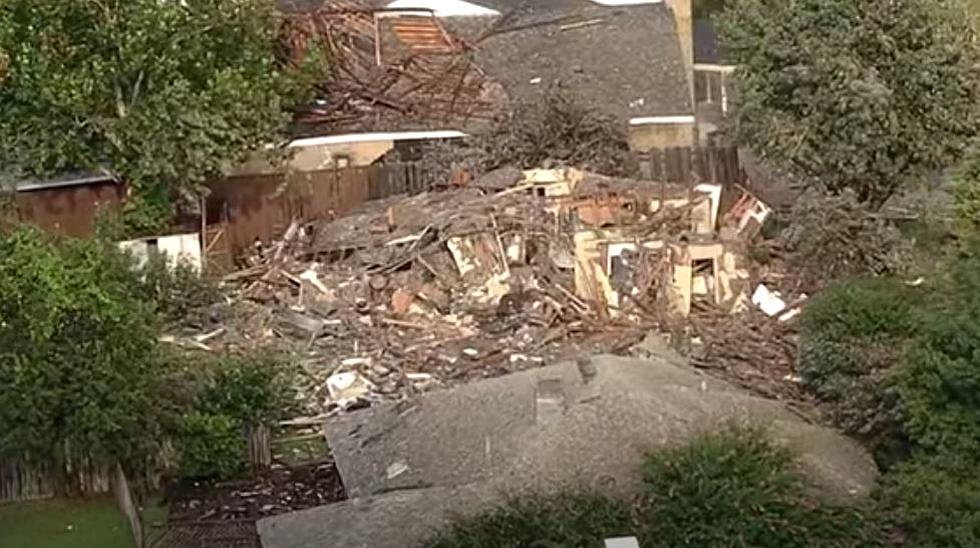 Texas Home Explosion Sends Six People to the Emergency Room
WFAA Youtube
A home explosion in Plano, Texas was captured by a doorbell camera from a home across the street on Monday afternoon.
Six individuals were taken to Plano area hospitals including one person who was inside the home at the time of the explosion.
Aerial footage shows the home to be a total loss after the unexpected event rocked the North Texas neighborhood just before 5 pm yesterday. Video of the explosion from the doorbell camera and flyover footage is shown below. I can't imagine being next door to someone's house exploding with such force like that. It's just not the kind of thing anyone ever expects.
Some of the individuals taken to the hospital were children. Our thoughts and prayers certainly go out to the families in that neighborhood and to those who were injured. The photos below show the scene of the accident which is a complete and total loss. All that remains of the home is a debris field and the foundation.
The cause of the blast has not been made official but with so many people working on the response effort, we hope Plano officials can find the answers they are looking for soon. While it is still unofficial, Plano Fire believes a small and isolated gas leak within the home is very likely to be the cause of the explosion.
Aerial Photos: Home Explosion in Plano, Texas
Residents in Plano, Texas felt the ground shake during a home explosion that sent six individuals to the hospital on Monday afternoon.
20 Most Affordable Homes For Sale in Victoria
Check out these 38 photos of the most affordable and charming homes on the market in Victoria.
Grand 2 Million Dollar Texas Estate
Victoria Gas Station Prices Highest-Lowest