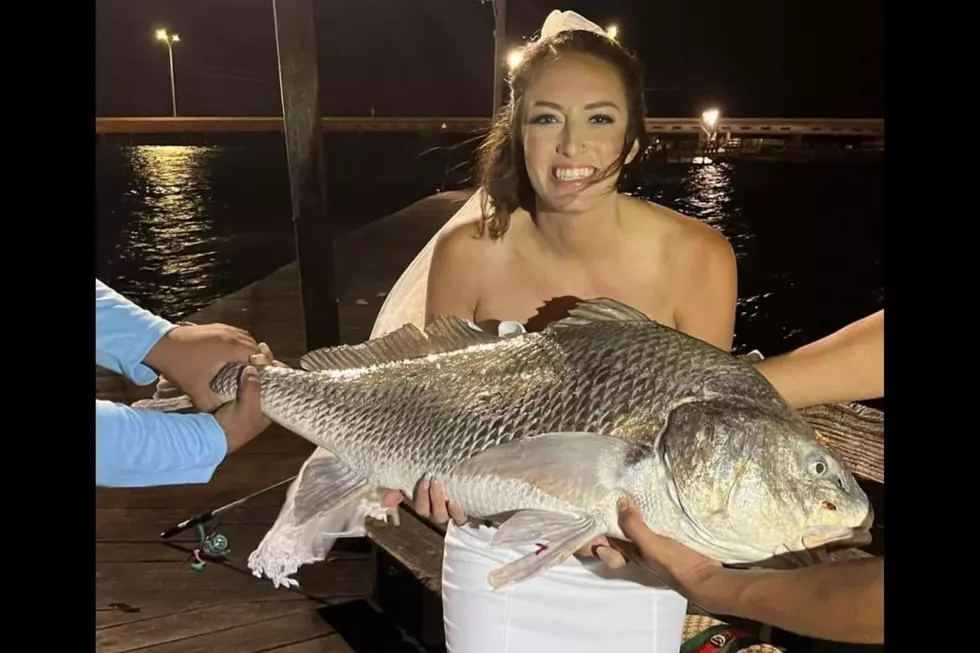 San Antonio Bride and Groom Spending Wedding Night Fishing
Eliot Waggoner Granville Facebook
In a story that is totally Texas. Eliot and Earnie Gravnvill from San Antonio had just tied the knot and weren't sure of what to do on their wedding night.  The bride, Eliot, decided to go fishing, and to keep the wedding vibes going, she went fishing with her wedding dress on.
As reported by KRIS-TV, Eliot suggested they go fishing, so they drove to Red Dot Pier on JFK Causeway. Eliot decided to leave her wedding dress on because she wanted to keep her wedding day going. They arrived at Red Dot Pier just before 11 p.m. Sunday, and in just a few minutes, Eliot Granville felt a tug. She said it didn't feel like a big fish, but when she started to reel it in, she knew it was going to be a large catch.
In the photo, you see the happy bride holding what appears to be a black drum which she caught off of a dead shrimp. The bride and groom released the fish back into the water. Look at that smile!  It looks like Earnie found him a lady that loves to go fishing. May this be the first of many fishing trips for the bride and groom.
According to the article, Earnie had to borrow a net from some other people who were fishing in order to bring the fish in, and they didn't have a scale, either, so the drum's weight is a mystery. Eliot estimates that the fish weighed between 40-50 pounds.
LOOK: 30 fascinating facts about sleep in the animal kingdom