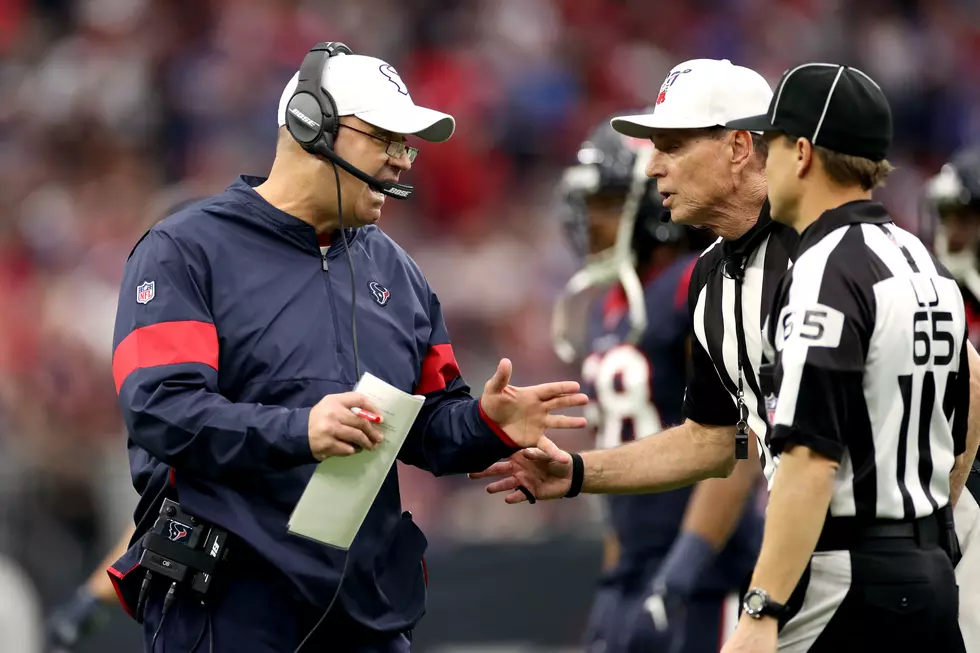 Houston Texans Fire Coach Bill O'Brien
Getty Images
ESPN is reporting that Houston Texans Coach Cill O'Brien has parted ways with the team after beginning the season 0-4.
Texans Chairman and CEO Cal McNair issued a statement on Monday afternoon saying, "On behalf of my family and our entire organization, I want to sincerely thank Bill O'Brien and his family for their impact on our franchise." O'Brien had been the team's Head Coach for several seasons and was also the General Manager for the most recent season. O'Brien joined the team in 2014 after two years at Penn State.
O'Brien led the team to four AFC South Division Championships, 52 wins, a nine-game-win streak, and several postseason appearances in the playoffs. On Monday evening O'Brien spoke to the media saying, "We weren't able to get it to where we needed to get it. ... I understand we fell short in terms of taking this team further in the playoffs. But I do leave knowing that myself and this staff gave everything this organization deserved and more. We worked very, very hard to try to get this to a place where it could be a championship program."
During many of the discussions about O'Brien's performance that have happened this afternoon, a couple of disappointments stand out that are hard to ignore even for hardcore fans of the team.
Going back to last fall's elimination game in Kansas City when the Texans blew at 24-0 halftime is hard not to talk about. The Texans seemed helpless to stop the bleeding in a game that could have been their ticket to the team's first-ever AFC Championship game. It was a very hard loss to get over.
The other sore subject is the trades this team has made over the last year. O'Brien was second-guessed for multiple trades going back to 2019 beginning with the trade of #1 draft pick Jadeveon Clowney to Seattle. O'Brien then sent two first-round picks and a second-round pick to Florida (Dolphins) for left tackle Laremy Tunsil and wide receiver Kenny Stills. To top it all off, O'Brien then sent fan favorite DeAndre Hopkins to the Arizona Cardinals for running back David Johnson. After 4 weeks, Johnson is averaging under 4 yards per rush, and the Texans have yet to win a game after this trade took place.
The Texans will now continue the season with a home game against Jacksonville on Sunday. Texans pregame begins at 11:30 AM on Sunday on KLUB 106.9 FM.
Enter your number to get our free mobile app
CHECK IT OUT: 10 Items Might Be in Short Supply This Winter