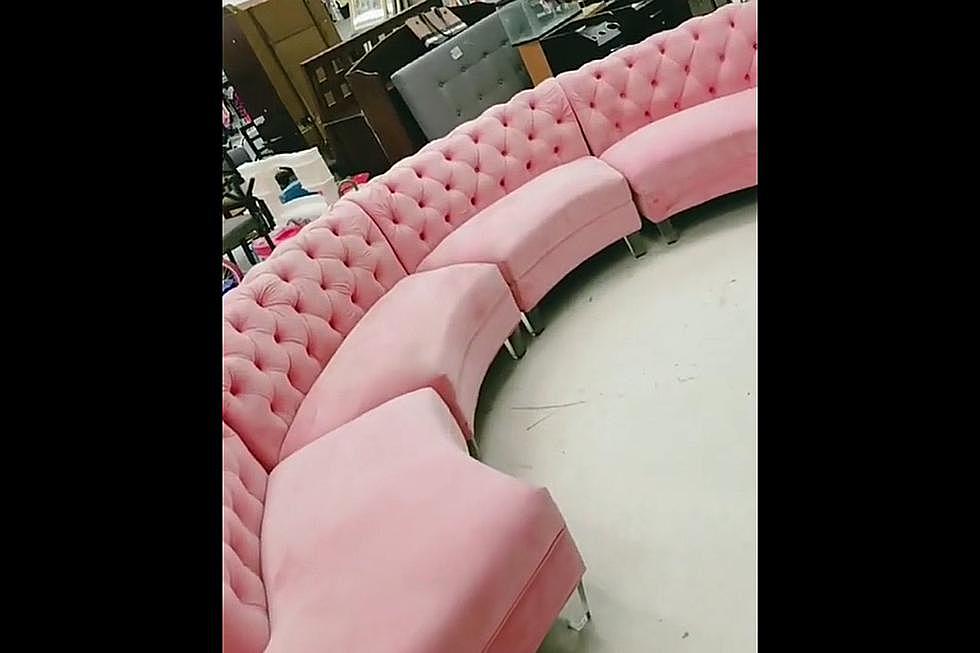 GOODWILL FIND: A Couch Purchased for $129-Worth $4K
Dallas Texas TV Facebook
I have always said, that you never know what you are going to find if you go to resale shops or garage sales. Here is one amazing example from last month!  A social media post from the Dallas Texas TV Facebook page told us of a  Houston woman who found her 'dream' couch for only $129.00. It turns out that the couch ended up being worth up to $4000.00 and thanks to elbeelondon on TikTok, we get to see the whole story. What is the best find that you have found at a resale shop or garage sale?
---
---
MY PERSONAL FINDS AT GOODWILL:
For those of you who don't know, one of my hobbies includes going to garage sales, pawnshops, and thrift stores. I mean, you never know what you are going to find. Throughout the years I have found some amazing things, and by amazing, I mean extremely random. I really try to focus on things that might have been found in the 'As Seen on TV' aisle back in the day. Just for the record, I have found all of these items at the Goodwill locations in Victoria and Nacogdoches. You just really have to search in every corner, especially the top of the clothing racks. One of my criteria for this list is that it has to be in the box with all the original parts.
5. THE PASTA EXPRESS:
I found this gem at the Goodwill location by the Victoria Mall.  It does work if you follow the instructions. However, it is probably something that I will only use once. Out of pocket expense: $3.00. I made my list because it was still in its original state.
4. THE RAPID PIZZA REHEATER
This purchase set me back $2.00 at the Goodwill at Nacogdoches. It does not work, my pizza was still soggy. I found this review on Amazon. Did nothing to change what we got from the microwave. Gave both to goodwill. I probably bought one of them.  
3. TOILET GOLF
This was new in the box and it works LOL.  No description is necessary. It was $2.00 You can still find it online for $13.00+
2. RAPID BROWNIE BAKER
This bad body is legit and works. It works so well that I made a YouTube review for this product. These brownies were BOMB! I mean look how easily they slide on to the plate. SEE YOUTUBE VIDEO HERE.
1. MAKIN BACON
This is such a simple contraption but it makes perfect non-greasy crispy bacon.  I have used this item multiple times. This is by far the best $2 that I have spent at Goodwill.  You can still find this online for around $17. See my YouTube review by clicking here.
JP'S FAVORITE THRILL RIDES
WEIRDEST DRUG BUST AT THE TEXAS BORDER
Gallery Credit: Getty Images
READ MORE: 25 Companies You Might Not Know Are Owned by Disney
JP'S FAVORITE THRILL RIDES
WEIRDEST DRUG BUST AT THE TEXAS BORDER
Gallery Credit: Getty Images
READ MORE: 25 Companies You Might Not Know Are Owned by Disney