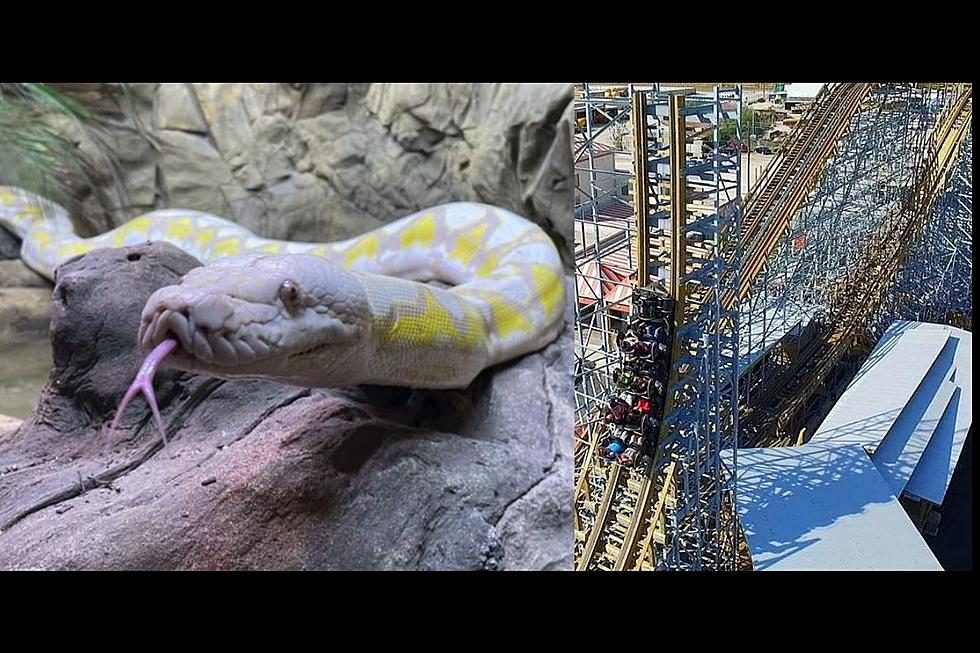 Check out These Lesser Known Ideas for a Spring Break Day Trip
Animal World (R) ZDT
With Spring Break upon us, I thought it would be fun to showcase some of the fun day trips. Check out these lesser know day trips ideas within driving distance from Victoria. We have left out the big theme parks and waterparks because most everybody knows about them.
ZDT AMUSEMENT PARK IN SEGUIN
ZDT's Amusement park is located inside the Seguin city limit and even features a switchback roller-coaster. Alongside the roller-coaster, it also features go-carts, a swinging pendulum, a drop tower, a water coaster, and an awesome arcade.  I have been there with my son before and it's a great day trip that ends with a little Bill Miller's and a trip to Buc-ee's if you use IH-10.  Take a look at some of the awesome attractions below: Learn more.
ANIMAL WORLD AND SNAKE FARM:
Located just north of San Antonio on IH-35!  "Snake Farm" has been one the most prominent must-see attractions in the San Antonio/Austin area. Its establishment in 1967 However, it is not as well known as it should be!  Check out an extensive collection of snakes, reptiles, and other exotic mammals.  It is definitely a place that I would recommend going especially for animal lovers. Get more information.
NATURAL RIDGE WILDLIFE RANCH IN SAN ANTONIO:
Witness the behavior of over 500 animals from more than 40 different exotic, native and endangered animal species from across the globe. Grab your safari hat, and join us for the adventure of a lifetime ⁠ from the comfort of your car.  The safari trek covers over 6 miles and takes most visitors 1-2 hours to meander and enjoy. With ranch admission, visitors can take multiple treks—which is highly encouraged. Here is one tip I learned the hard way: DO NOT FEED THE OSTRICHES FROM YOUR HAND!  Get more information by clicking here.
TEXAS STATE AQUARIUM: 
Sometimes people tend to forget about this one right up the road in Corpus Christi!  The Texas State Aquarium will be open from 10-5 during Spring Break Week. Maybe it's time to take a trip to Corpus Christi. Get more information by clicking here.
MY LOVE OF THRILL RIDES:
Right now, it would be fun to write about one of my favorite topics: thrill rides! However, I have not always been a thrill-seeker, I didn't ride my first rollercoaster until I was like 20 years old.  My girlfriend at the time(now my wife), forced me to get on the 'Road Runner Express.' My response after my first ride was, 'that was pretty intense.' She just laughed.  She said 'that's a baby rollercoaster. Don't even ask about how I reacted on my first ride on the uphill water coaster 'Blastenhoff' at Schlitterbahn.  We don't have time for that.
Here is a list of my top ten thrill rides in the state of Texas from the three big Theme Parks, Fiesta Texas, Sea World, and Six Flags Over Texas.  Oh yeah, I will also add my picks from my family's favorite place on the planet, Disney World. Let me know how your list would play out and what ride you would add to my list.
JPS TOP EIGHT THRILL RIDES
50 Most Popular Chain Restaurants in America
YouGov investigated the most popular dining brands in the country, and Stacker compiled the list to give readers context on the findings. Read on to look through America's vast and divergent variety of restaurants—maybe you'll even find a favorite or two.