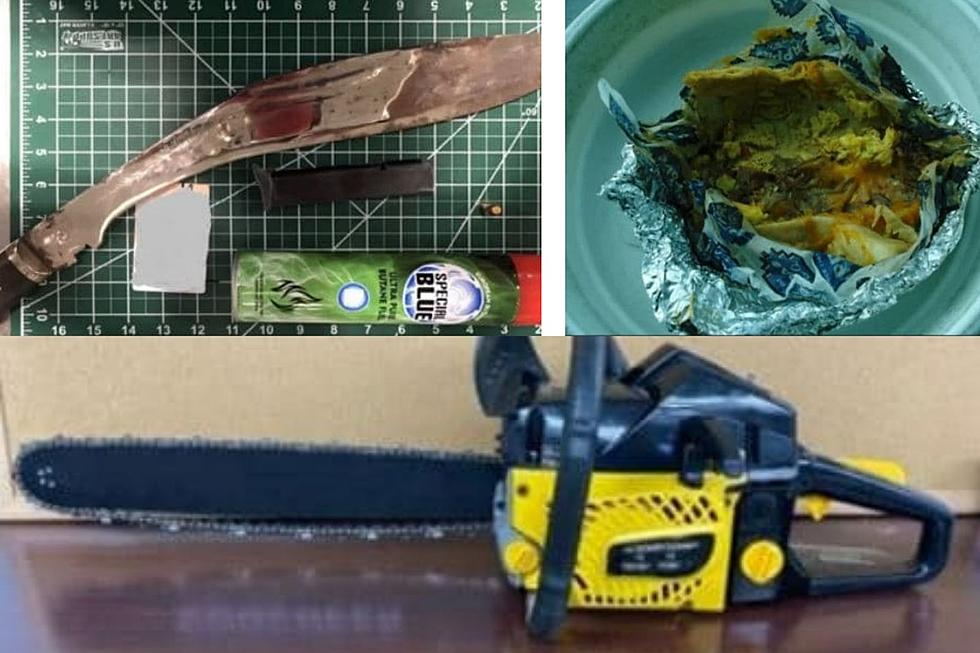 Check Out the TSA's Top 10 Catches of 2021
(3) TSA
The Transportation of Security Administration has just released their list of top 10 catches of 2021!  Who thought of some of these ideas I mean, I am scared to accidentally take a little bottle of liquid of over 3.4 ounces.  Here is the list of the strangest and some dangerous finds. Some guy in Houston really tried to sneak a meth burrito in his carry-on.
While I think these are interesting finds. I find the stuff that is found at the border is much more interested. I mean last year, authorities in Texas seized over four million dollars worth of crystal methamphetamine hidden within a large shipment of cucumber pickles making its way from Mexico into Texas. Check out the list of the TSA's strangest finds and the weirdest bust at the border. SCROLL THE GALLERY!
BULLETS IN DEODORANT FROM THE ATLANTIC CITY INTERNATIONAL 
THIS PISTOL WAS FOUND AT NEWARK LIBERTY INTERNATIONAL
THIS METH BURRITO WAS FOUND AT HOUSTON'S HOBBY AIRPORT
THIS FIREARM BUCKLE WAS FOUND AT HONOLULU INTERNATIONAL
A NICE CLEAVER INSIDE LUGGAGE AT HARRISBURG INTERNATIONAL
BEAR-SPRAY AT DESTIN-FORT WALTON BEACH AIRPORT
A MASSIVE MACHETEAND A FEW OTHER THINGS AT REAGAN WASHINGTON NATIONAL
FIREWORKS IN LUGGAGE AT SYRACUSE HANCOCK INTERNATIONAL 
THIS MASSIVE WINE HOLDER FROM SACRAMENTO INTERNATIONAL
THIS MASSIVE CHAINSAW FOUND AT NEW ORLEANS INTERNATIONAL
WEIRDEST DRUG BUST AT THE TEXAS BORDER
In Your Words What Downtown Needs Next
Inside Amazon: A Detailed History of America's Biggest Online Retailer
Stacker
compiled a list of key moments in Amazon's history and its current business from a variety of sources. Here's a look at the events that turned an online bookstore into a global conglomerate and a self-made entrepreneur into the world's second-richest man.