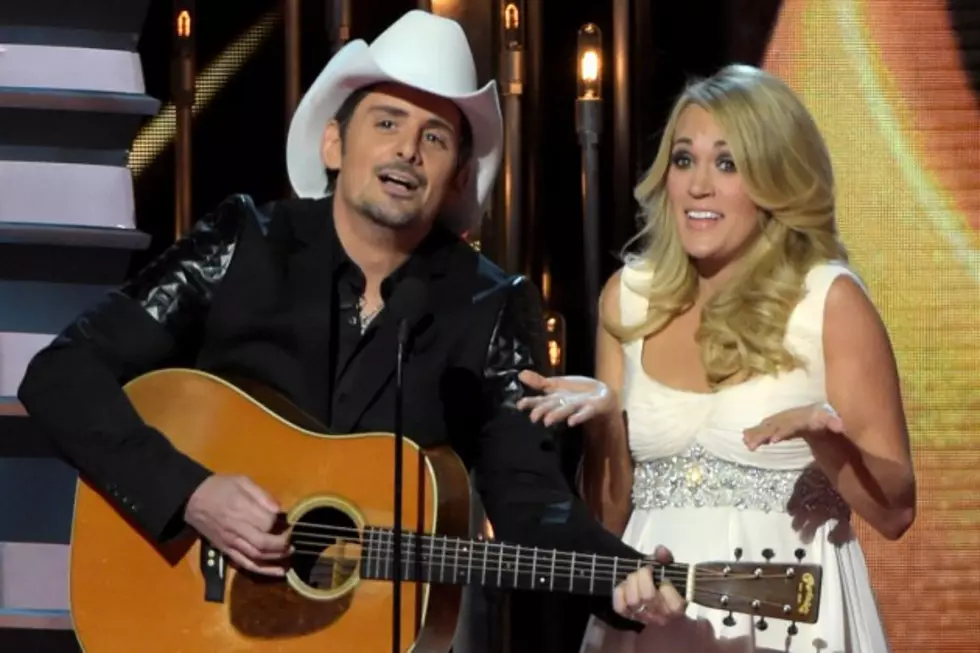 Brad Paisley's Parenting Advice for Carrie Underwood: 'I Have No Clue'
Rick Diamond, Getty Images
Since Brad Paisley is a father to two boys of his own, you might think he'd have some parenting tips for his good friend Carrie Underwood. As it turns out, you'd be wrong.
"I have no clue what to tell her," Paisley admits to CMT. "I've gotten a few of texts from Carrie … like, 'Who's your pediatrician?' And, 'How do you do that?' Or, 'What's this?'"
The pair first met in 2006, when Underwood opened a series of shows for Paisley after winning American Idol. They have been friends ever since, and in recent years have co-hosted the CMA Awards every year. Paisley has two sons now, Huck and Jasper, but although he juggles his road schedule with fatherhood, he says Underwood's situation is going to be completely different.
"My kids get to be home with my wife, their mother," he observes. "And it's a much different thing when it's the mom going on the road. I cannot imagine what it would be like if she's got a weekend with three shows, and she'd have to just leave breastmilk in the fridge. That would be rough."
One thing Underwood doesn't need any advice on is what to name her son. Though Paisley jokingly suggested "Garth" when he blurted out the baby's gender at the CMA Awards, she tells Taste of Country Nights host Sam Alex that she and her husband, Nashville Predator Mike Fisher, have zeroed in on some more likely names.
"We might wait until we meet him and then see what he looks like," Underwood says, adding, "We have a couple that we're okay with."
Carrie Underwood Baby Bump Watch 2015 Begins
Country Music's Most Adorable Couples