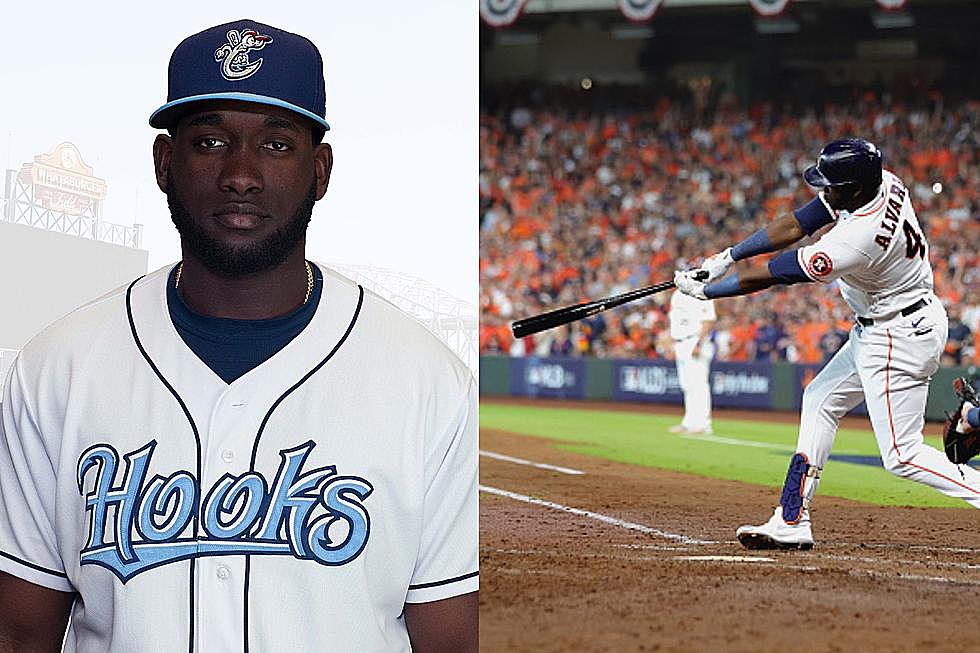 Yordan Alvarez: Corpus Christ Hook to Houston Astros Superstar
(L) CC Hooks Facebook (R) Getty Images Carmen Mandato / Staff
Last year, Yordan Alvarez signed a  6-year $115 million dollar extension that keeps him an Astro until 2028, and right now he is showing everybody he is worth it, especially in the playoffs.   He is on an absolute tear in the ALDS and ALCS. Through the first 7 games of the playoffs, he is hitting over .400 with 6 home runs, 10 RBI, and 11 runs scored!  Yordan is a force to be reckoned with for many years to come in Major League Baseball.

What I love about the Astros is that they have their minor-league affiliates so close to  Victoria. Many of us have had the opportunity to see a lot of today's Astros players before they were superstars, such as Yordan Alvarez. He spent some time with the Corpus Christi Hooks back in 2018. Check out a 'baby-faced' Yordan Alvarez.
Yordan looks much better in Astros gear...
Here is one of Justin Verlander from the Detroit Double-A Affiliate, Erie Seawolves
YORDAN ALVAREZ
A YOUNG JOSE ALTUVE:
ALEX BREGMAN

FRAMBER VALDEZ 
KYLE TUCKER
LANCE MCCULLERS JR
The Savannah Bananas Are Coming to Minute Maid in Houston
If you are a baseball fan, chances are you have heard of the Savannah Bananas! There is also a chance that you have possibly seen one of their viral videos on social media.  Well, they are taking their show on a world tour that includes a stop at the Astros, Minute Maid Park, on March 9, 2024. Tickets are not on sale yet; according to abc13, the Bananas have opened a ticket lottery page to handle the high-demand event. That's what a 500,000-person-long waitlist for this past spring's Sugar Land stop commands. Oh yeah, Minute Maid Park will be the first MLB park, that the Savannah Bananas will play at.
---
---
LET'S TAKE A LOOK AT A FEW YORDAN HIGHLIGHTS FROM LAST YEARS WORLD SERIES RUN!
50 Famous Brands That No Longer Exist