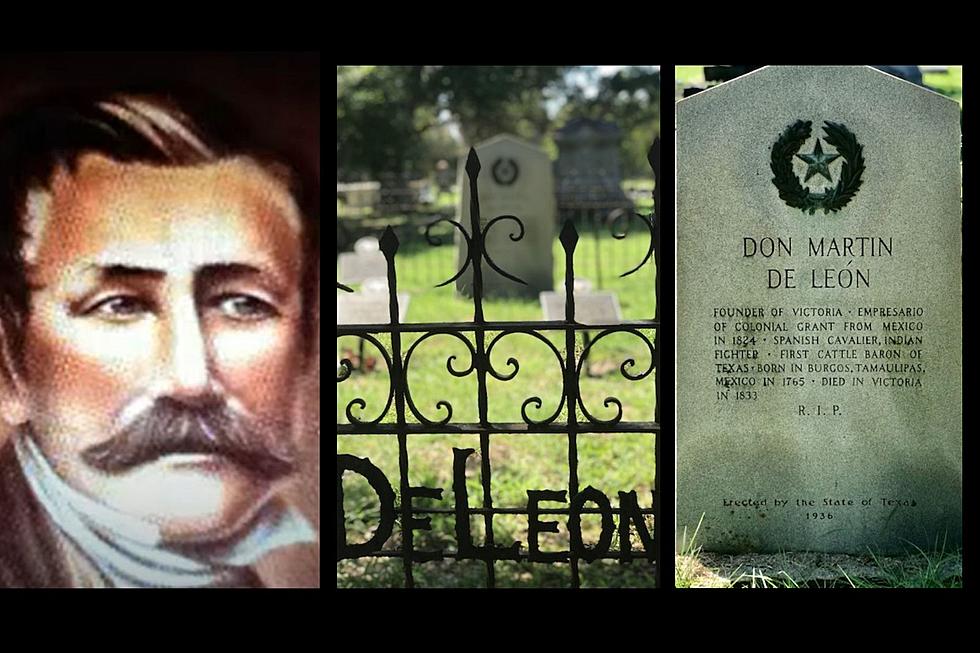 Victoria's Founding Father Is Buried Right Here In Victoria
TSM/ILS
Don Martin De Leon, the founding father of Victoria, Texas, is buried right here in Victoria.
It wasn't but a few weeks ago that JP and I were sitting in the studio talking about Victoria's history when the conversation came up about our communities' founding father; Empresario, Don Martin De Leon. Martin De Leon was born in an aristocratic family in Mexico and became an empresario, or a land grant, land contractor from Mexico when he began a ranch in Texas.
JP was working on an article and discovered to our amazement that Empresario De Leon, is actually buried right here in Victoria Texas, right inside of the historic Evergreen Cemetery located at 1868 North Vine Street.
Who was Empresario, Martin DeLeon?
Martin De Leon, if you do not know already, was not only the founding father of Victoria, he was key to settling the Texas Coastal Bend. In fact, he was the only Mexican empresario to found a colony in Texas. Other empresarios of Texas include Stephen F. Austin and James Power. You can read some of his personal history in the Texas State Historical Handbook of Texas here. Mrstechneck offers this video on Youtube.
A great article from HumanitiesTexas.org which you can read in its entirety here offers that, De Leon, born in 1765 into an aristocratic family in Mexico whose relatives were educated in places like London and Madrid, married and settled into Texas, establishing a family ranch in San Patricio Texas originally. "In 1824, he founded a colony centered on the new city of Victoria with an empresario grant from Mexico." Martin De Leon was instrumental in establishing over 40 Mexican family settlements. De Leon's cattle brand became the first cattle brand in Texas as well!
Martin De Leon named our community, Victoria. Well, at first he called it Villa de Nuestra Señora de Guadalupe Victoria Nombre de Jesús.
According to record, the original settlement's name was Villa de Nuestra Señora de Guadalupe Victoria Nombre de Jesús, for both the Guadalupe River and Mexico's president Guadalupe Victoria. We know it as Victoria, Texas!
Sadly, De Leon died in the cholera epidemic of 1834, two years before the Republic of Texas was established. He along with his wife and children as well as extended family are also buried alongside him in the De Leon plot.
Several of Martin De Leon's descendants live in Victoria to this day.
With the great history of Martin De Leon in mind, we headed to Evergreen Cemetery to find the burial site!
We encourage you to visit Evergreen Cemetary, to see the plot for yourself. Its antique wrought iron gates welcome you and its steadfast monuments pay tribute not only to Martin De Leon and his family but to the history of Victoria as well. You can find more information about Martin De Leon, his family, and his contributions by visiting the Victoria Preservation, Inc and the Museum of the Coastal Bend.
Crossroads Dias De Los Muertos Celebration
The First Ten Crossroads Commandments
In Your Words What Downtown Needs Next