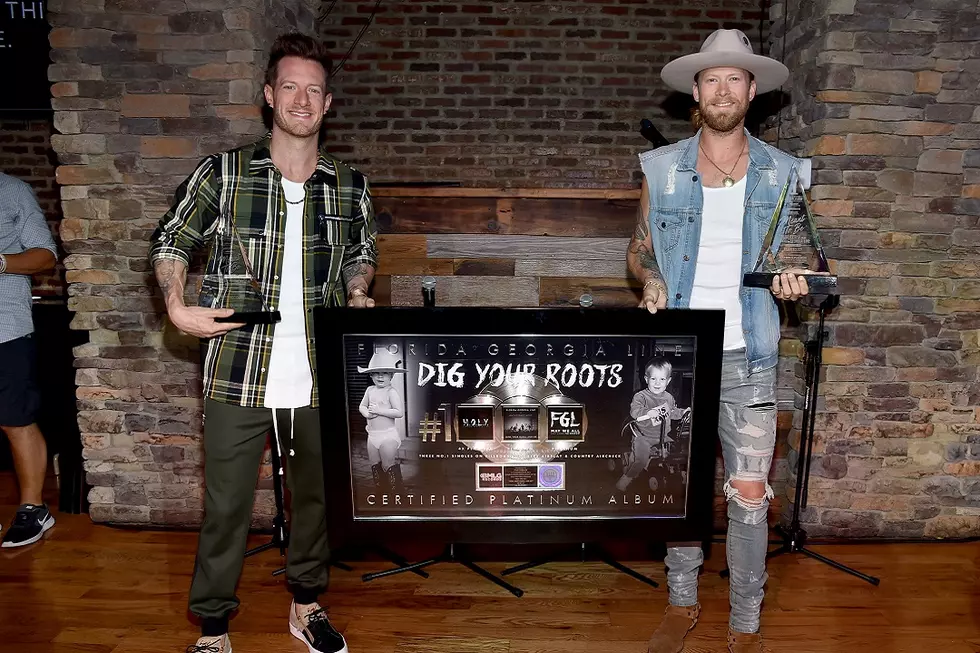 The Country Music Charts: Everything You Need to Know
John Shearer, Getty Images
It's always big news when a song hits No. 1 on the charts: for the artist, songwriters and label, and also for diehard fans of the artist or song. After all, having the top country song in the country is a big deal.
But how is a No. 1 song determined? There are three main singles-related mainstream country music charts — the Billboard Country Airplay chart, the Billboard Hot Country Songs chart and the Mediabase Country chart — and they're all a little bit different. However, all three charts are designed to show a song's popularity — and, usually, the higher a song is on the charts, the more you will hear it on the radio.
The country music charts are big business in Nashville. Since the Billboard Country Airplay and Mediabase Country charts measure radio success, record labels employ promotion teams to push their songs to radio stations in hopes of getting their singles more airplay. The higher a song gets on the chart, the more people it reaches — and that helps artists grow their fanbases and, in turn, sell EPs and albums, concert tickets and merch.
Want to know more about the difference between these three main country music charts? Read on for a breakdown.
The Billboard Country Airplay Chart
The Billboard Country Airplay chart is exactly what it sounds like: a chart that measures radio airplay for country singles. The Top 60 current singles make up the chart every week.
A song's total audience determines where a song is ranked, which means that not only are the number of stations playing a song and the number of times a song is played important, those stations' audience sizes are, too. Even if a song is being played by more stations or more frequently, the song with the larger audience will be ranked ahead of the song with more spins.
The Billboard Country Airplay chart used to be called the Hot Country Songs chart … but we'll dive more into the chart now known as Hot Country Songs and its history later.
How Is the Billboard Country Airplay Chart Tabulated?
A total of 149 stations, with audience totals determined by the marketing research firm Arbitron Inc., report their playlists to help Billboard calculate the Country Airplay Chart. The song's chart week runs Monday morning through Sunday night, and the official Billboard Country Airplay numbers are revealed the following Monday evening.
The Country Airplay chart used to rank songs by number of spins, but the methodology changed to rank songs based on audience in January of 2005. Many industry insiders contribute the change to the massive increase in spins of Reba McEntire's single "Somebody," which skyrocketed to No. 1 in 2004, dethroning Tim McGraw's megahit "Live Like You Were Dying" for a single week.
How Does a Song 'Fall Off' the Billboard Country Airplay Chart?
Songs on the Billboard Country Airplay chart receive a bullet next to their ranking if they've either gained in audience week over week or stayed even in audience from the previous week. The rules have changed quite a bit over the years, but currently, a song that has climbed into the Top 10 and then descended below it in either audience size or spins is removed from the chart after 20 weeks. Songs are also removed from the chart if they're below the Top 10 and are non-bulleted — that is, they're losing in audience size — for a third consecutive week.
The Billboard Hot Country Songs Chart
The Billboard Hot Country Songs chart currently ranks country music's Top 50 songs based on three separate factors: radio airplay, sales and streams. However, this version of the Hot Country Songs chart has only been in existence since Oct. 20, 2012. The current Country Airplay chart used to be called the Hot Country Songs chart, from 1990 through Oct. 20, 2012, when it also debuted.
How Is the Billboard Hot Country Songs Chart Tabulated?
As mentioned above, the Billboard Hot Country Songs chart doesn't only base its rankings on radio airplay: Digital sales and streaming are also factored in. The radio airplay number is based off audience impressions on radio stations of all genres, as determined by Nielsen Music, a data-tracking firm; sales figures and streaming numbers are also tracked by Nielsen.
What's most fascinating about the Hot Country Songs chart is the fact that songs can ascend to No. 1 with little radio airplay (for example, the current No. 1 song, Blanco Brown's "The Git Up"). Sales and streams can heavily influence this chart's rankings and cause a song to spend many weeks at No. 1, as happened with Bebe Rexha and Florida Georgia Line's "Meant to Be" in 2018.
How Does a Song 'Fall Off the' Billboard Hot Country Songs Chart?
A song is removed from this chart if it falls below the Top 25 and is more than 20 weeks old.
The Mediabase Country Chart
The Mediabase Country chart, ranks the Top 50 country radio singles every week. Its rankings are published in Country Aircheck.
Like the Billboard Country Airplay chart, the Mediabase Country chart measures a single's popularity on country radio only. However, the way its rankings are tabulated is far different: Both spins and audience go into determining a song's position.
The Mediabase chart has been around in its current form for decades. After being started in 1985, it found popularity in the '90s. The chart used to be published weekly in Radio & Records, but after Nielsen bought that publication in 2006, Country Aircheck was founded and has published the chart ever since.
How Is the Mediabase Country Chart Tabulated?
Mediabase runs on a points-based system: A song's spins and audience totals are put into a formula, which is a secret unless you work at Mediabase. However, the radio stations that are reporting their spins also help determine how many points each single gets based on their market size. This factor is why one song sometimes ranks higher than another even though it has fewer spins and a smaller audience.
Currently, 156 radio stations report their playlists to Mediabase. The chart week runs from Sunday morning through Saturday night.
How Does a Song 'Fall Off' the Mediabase Country Chart?
A song receives a bullet if it's gaining in total points or in spins. If a song is non-bulleted for three straight weeks — that is, if it has neither gained spins nor total points — it is removed from the chart. The only exception to this rule is for when a song loses its bullet while at No. 1; if that happens, the song is removed after its third week after falling from No. 1.
The Other Country Music Charts
In addition to the two Billboard charts and the Mediabase chart mentioned above, there are a few other, smaller country music-focused charts that reflect airplay:
Billboard Country Indicator chart: This chart reflects data from 109 small-market stations around the country. It's powered by Nielsen Music.
Mediabase Activator Country chart: This chart is another small-market chart, comprised of 52 stations, including SiriusXM's The Highway. It's powered and owned by Mediabase.
Texas Regional Radio Report chart: As its name suggests, this chart focuses on Texas-based stations, which makes it good for looking at the success of Texas and Red Dirt country artists. Its data comes from 86 stations in Texas and nearby states, along with specialty shows, online radio stations, and satellite shows.
MusicRow Breakout chart: Once again, this chart focuses on small markets. Made up of a panel of roughly 75 small-market stations, it's powered and controlled by MusicRow magazine in Nashville.
Americana Radio Singles chart: Created by the Americana Music Association and powered by CDX TRACtion's chart service, this chart shares reporting radio stations' play of Americana songs. About 80 terrestrial and internet radio stations are part of the reporting group.
In addition to radio airplay-focused charts, there are also charts that rank country songs based on their digital sales and streaming numbers, and charts that rank the top country, bluegrass and Americana albums.
50 Country Songs Everyone Must Hear Before They Die