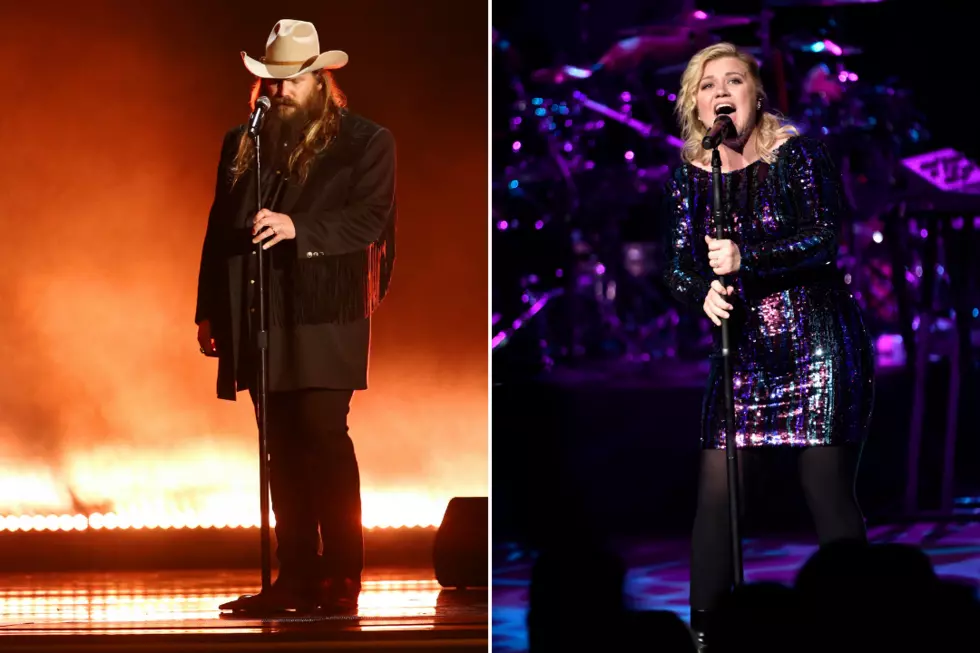 The Boot News Roundup: Chris Stapleton, Kelly Clarkson Featured on 'Trolls World Tour' Soundtrack + More
Getty Images (2)
Welcome to The Boot's News Roundup, a morning rundown of the news country music fans need to know. Read on to learn more about the latest goings-on in the country, Americana, bluegrass and folk genres.
Chris Stapleton and Kelly Clarkson will lend their vocals to songs that will appear on the soundtrack for the forthcoming animated film Trolls World Tour. According to Billboard, Stapleton and Clarkson will join artists such as Mary J. Blige, Justin Timberlake and Anna Kendrick for the Trolls sequel's soundtrack, which is set for release in March via RCA Records. Further details of Stapleton, Clarkson and the other artists' contributions have yet to be announced.
Brandi Carlile and Taylor Swift will be honored at Billboard's 2019 Women in Music gala, which is set for Dec. 12 at the Hollywood Palladium in Los Angeles, Calif. Swift will receive the first-ever Woman of the Decade Award, while Carlile will be presented with the Trailblazer Award, in recognition of her award-winning year and "longstanding advocacy for humanitarian efforts and LGBT visibility," according to Billboard. Alanis Morissette, Nicki Minaj and more artists will also be honored during the event, which will be live-streamed on the Billboard YouTube channel.
Alt-country artist Caitlyn Smith has announced plans for a follow-up album to her critically acclaimed debut record, Starfire. Titled Supernova, the project contains 12 tracks, including the first single, "Damn You for Breaking My Heart." "A supernova is a blast, the final and fullest expression of a star, and, to me, its most beautiful form," Smith says in a statement. "I made it the album title because I wanted the album to represent a whole range of emotions. I wanted each song to have that weight, to sit in its most utmost emotion." Supernova is due out March 13 via Monument Records.
Willie Nelson, Alison Krauss and more artists will perform at MerleFest 2020. The beloved annual festival, set for April 23-26 at Wilkes Community College in Wilkesboro, N.C., will also feature performances from a stacked lineup of newcomers and legends, including Jim Lauderdale, the Jerry Douglas Band, Charley Crockett, the Cleverlys, Robbie Fulks, Amythyst Kiah and more artists. Tickets for MerleFest 2020 are on sale now via the fest's official website.
Nathaniel Rateliff has announced plans for a new solo tour that will support his forthcoming solo album. The And It's Still Alright Tour is set to kick off on March 4 in Minneapolis, Minn., and will make stops in Chicago, Ill.; Boston, Mass.; Washington, DC; St. Louis, Mo.; Nashville, Tenn.; Atlanta, Ga.; and Los Angeles, Calif., before concluding at the Red Rocks Amphitheatre in Morrison, Colo. Courtney Marie Andrews, Damien Jurado, the Still Tide and more artists will join Rateliff out on the run as support acts. Tickets for these dates go on sale on Friday (Nov. 22) via Rateliff's official website, and further details about Rateliff's solo project are to be announced.