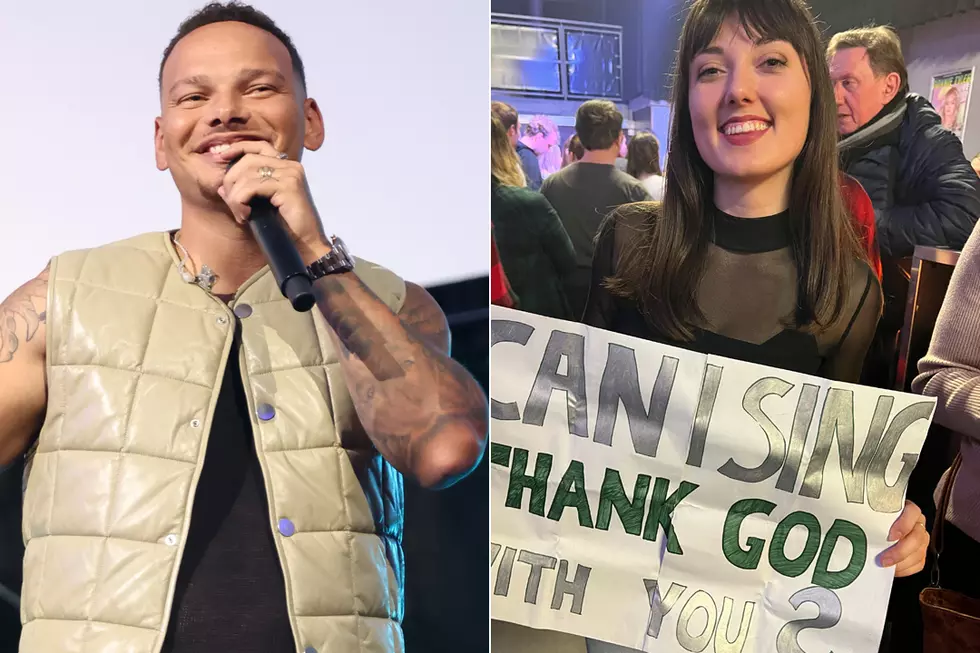 Kane Brown Plucks a Fan to Sing 'Thank God' With Him + the Result Is Stunning! [Watch]
Getty Images / Instagram/Mariella.EBM
No Kate, no problem for Kane Brown. Mariella Meyer filled in for the singer's wife during "Thank God" over the weekend — if you're asking, "Who?" you're not alone.
The 25-year-old tells Taste of Country she came to the show in Munich, Germany, as fan but brought a poster asking Brown to let her join him, just in case. With Katelyn Brown back home for the final few dates of her husband's European tour, "just in case" became reality.
Watch as Mariella takes lead on "Thank God," Brown's current single with wife Katelyn. She more than just knew the words:
https://www.instagram.com/p/Cn_l1EZo868/
"I have always dreamed of being a professional singer/artist myself but I didn't know where to start, which is why I decided to get a degree in marketing and start a job at a music label to find out what it takes to make my dreams come true," the Munich native tells Taste of Country. "I am currently working there full-time, and besides that I'm taking singing lessons and try to perform any chance I get to perfect my craft."
Family in the United States introduced her to country music and eventually she found Brown, whose song "Heaven" is a favorite. There are more examples of Mariella's singing on her Instagram page.
The Munich show would end up being the last show on this international leg of Brown's tour, as illness would force him to cancel dates in Berlin and Stockholm. His next scheduled tour stop is in March, although he'll play Super Bowl Fest in Phoenix on Feb. 11.
See Kane Brown's Luxurious Rural Home
Kane Brown
sold this Nashville-area home for $900,000 in October 2020. Prior to selling the house, he actually let
Jason Aldean
and his wife rent it while they built their new house.