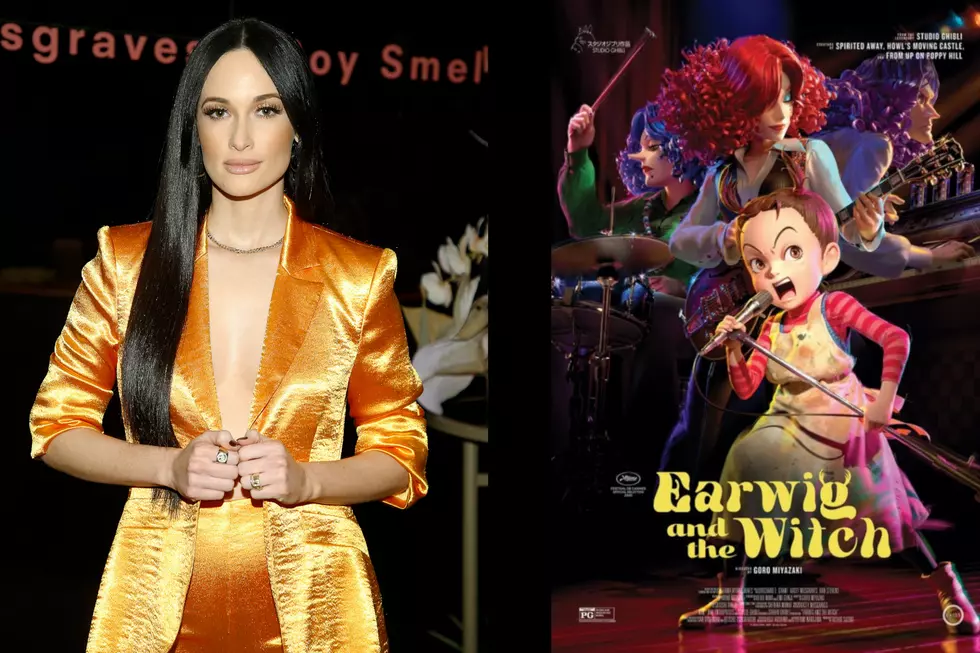 Kacey Musgraves Stars in New Studio Ghibli Film
Getty Images/Studio Ghibli
Full disclosure: I'm a Studio Ghibli fanboy.
The acclaimed Japanese animation house has produced, in my humble opinion, the absolute best animated films of my lifetime - most of them helmed by legendary writer and director Hayao Miyazaki.
The studio's brought us beloved classics like 'My Neighbor Totoro', 'Spirited Away', 'Princess Mononoke' (one my personal top 10 favorite films of all time), 'Grave of the Fireflies', and 'Howl's Moving Castle', and they've cast some impressive American performers in the English dubs of the films.
Now you can add country darling Kacey Musgraves to that list.
Kacey lends her voice to the recently released 'Earwig and the Witch', which is Ghibli's first 3D-animated film. The studio's known for its lush, gorgeous traditional animation with some CGI support. It'll be interesting to see if the Ghibli charm can translate into 3D.
---
---
The film was directed by Hayao Miyazaki's son, Gorō Miyazaki, and is based on a novel by English author Diana Wynne Jones.
Kacey voices the mother of the main character, Āya (aka Earwig), a 10-year-old orphan girl who grew up not knowing she's the daughter of a powerful witch. Kacey tweeted about her love for Ghibli classic 'My Neighbor Totoro' back in December, and revealed that in addition to voicing the mother of the main character in 'Earwig and the Witch', she's also recorded a song for the film's soundtrack.
"My dad brought a vhs tape of Totoro home when I was about 9 and I'll never ever forget the comfort and the magic that movie (and many other Ghibli films) have given me," she wrote. "My sister has always been my Mei and I've always been her Satsuki. To say this was a full-circle, bucketlist moment is an understatement."
Like Kacey, I too found comfort and untold joy in Studio Ghibli films as a kid. What I admire most about the movies (aside from their beautiful and highly detailed animation) is that they never condescend to children. Ghibli films often tackle some pretty heavy topics in ways that make children feel heard and represented, and that can be a very powerful thing to experience with a loved one. The only American studio to come close to matching Ghibli is Pixar.
If you've never seen a Studio Ghibli film, I highly recommend watching 'My Neighbor Totoro', 'Spirited Away', 'Ponyo', or 'Kiki's Delivery Service' with your children. The films will make a huge impression, and have plenty for adults to enjoy as well.
Ghibli films like 'Nausicaä of the Valley of the Wind', 'Princess Mononoke', and 'Grave of the Fireflies' are great too, but are more appropriate for older children.
Though I have my reservations about Ghibli producing a 3D film, I'm definitely going to give this one a chance. I've yet to see a film from the studio that didn't have something to love.
I'm happy for Kacey Musgraves getting to live a childhood dream and voice  a Ghibli character. It must have been an incredible experience.
The film opens in select theaters on February 3 and will stream on HBO Max beginning February 5. You can also preorder a physical copy here.
LOOK: Famous Historic Homes in Every State