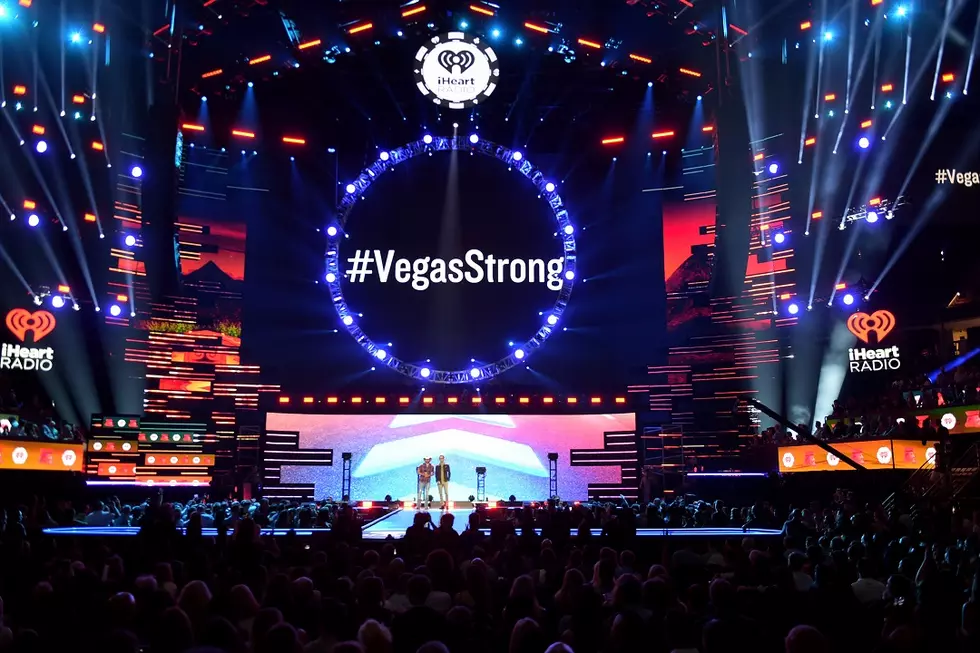 Jason Aldean Helps Remember Route 91 Shooting Victims, Responders at Las Vegas Concert [WATCH]
Getty Images for iHeartMedia
Jason Aldean was in Las Vegas, Nev., on Friday night (Sept. 21), and took a moment to honor those affected by 2017's Route 91 Harvest Festival shooting, which occurred just shy of one year ago, on Oct. 1. The country superstar remembered the victims of the tragedy and saluted the first responders who helped out.
During the 2018 iHeartRadio Music Festival, organizers of the event spotlighted those first responders in a video tribute, even inviting some of them onstage with Aldean and radio DJ Bobby Bones. Readers can press play below to see video of the moment, which was met with loud cheers of thanks from the fans in attendance.
"On behalf of myself, my family and my family in the country music community, I want to say thank you to the city of Las Vegas for your courage, strength and kindness," Aldean said from stage (quote via Fox News). "Tonight, we are all proud to be Vegas Strong."
Aldean was the artist onstage at the Route 91 Harvest Festival when a gunman opened fire from a hotel room at the nearby Mandalay Bay, killing 58 people and injuring hundreds more. His performance at the 2018 iHeartRadio Music Festival was one of his first appearances in Vegas since the tragedy; in April, Aldean took part in a tribute to the shooting's victims during the 2018 ACM Awards and has visited with survivors in the city.
"Every night in our meet and greets, we're meeting fans who were here at that show. I don't think we've played a show that we haven't had some of the survivors come out to that show," Aldean shared backstage at Friday night's festival. "Every year [when] Oct. 1 rolls around, that's going to be something we remember and that sticks with us from now on."
Aldean noted that being in Las Vegas for a show so close to the one-year anniversary was "at times, a little weird," but "in another sense, it's nice to be back."
"This is really our first performance we've had since then," Aldean added. "Tonight is going to be another step in getting through all of that stuff, and coming back here, I think, is going to be a big part of it."
Remembering the Route 91 Harvest Festival Shooting Victims