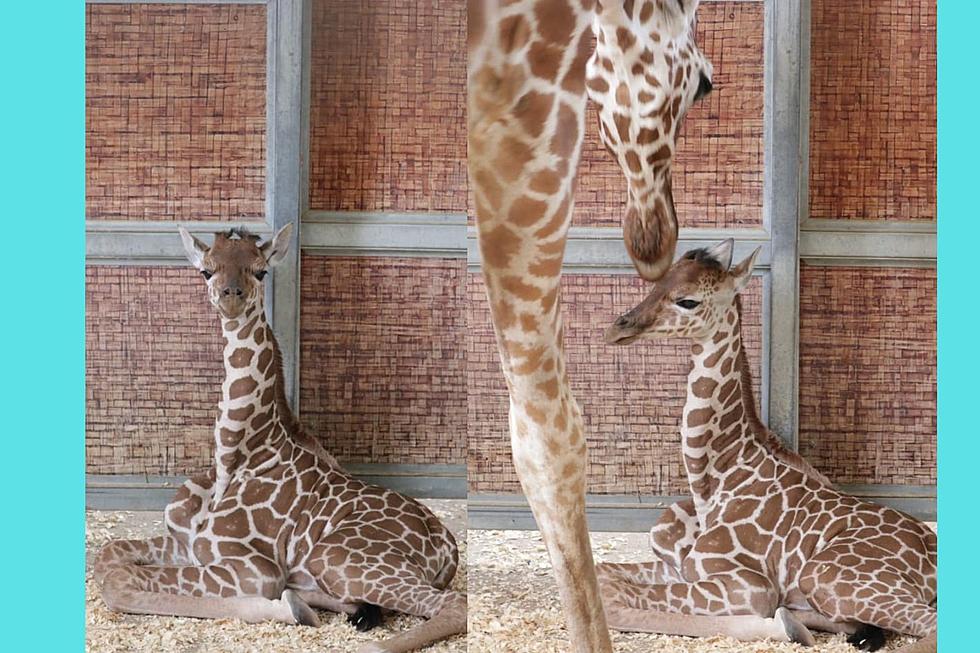 Dallas Zoo Welcomes Baby Giraffe
Dallas Zoo Facebook
Animals lovers, get ready for a cuteness overload! The Dallas Zoo has just welcomed a new member to their herd of giraffes. A reticulated giraffe named Chrystal gave birth to a healthy female calf in the early morning hours of July 4.  What does reticulated mean? Simply stated, it means having a pattern of interlacing lines, forming a net or web.
The new baby calf is approximately 5'5" tall and weighs about 104 pounds. Chrystal and her new calf are bonding privately behind the scenes for now. See the photo below. The question is why are giraffes so adorable? We might not have an actual answer, but we have some fun giraffe facts below.
WHAT HAPPENS WHEN A GIRAFFE IS BORN?
A baby giraffe is born after 14-months of gestations. Soon after,  it drops up to 6 feet to the ground and lands on its head. The fall does not hurt the baby giraffe at all but makes it take a deep, first breath. After an hour or so, the baby can walk on her own.
WHAT DO NEWBORN GIRAFFES EAT?
For the first four to six months, the babies drink milk from their mother. After that time, the babies begin eating leaves. If the babies cannot reach trees with available leaves, mothers will pull leaves off and feed them to the babies. Giraffes can eat up to 75 lbs. of food per day and spend as much as 18 hours per day consuming leaves.
Top Ten Texas Foods To Challenge Northerners In An Eating Contest
SURPRISING WAYS TO KEEP COOL THIS SUMMER
Have you heard of any of these?
LOOK: Stunning animal photos from around the world
From grazing Tibetan antelope to migrating monarch butterflies, these 50 photos of wildlife around the world capture the staggering grace of the animal kingdom. The forthcoming gallery runs sequentially from air to land to water, and focuses on birds, land mammals, aquatic life, and insects as they work in pairs or groups, or sometimes all on their own.