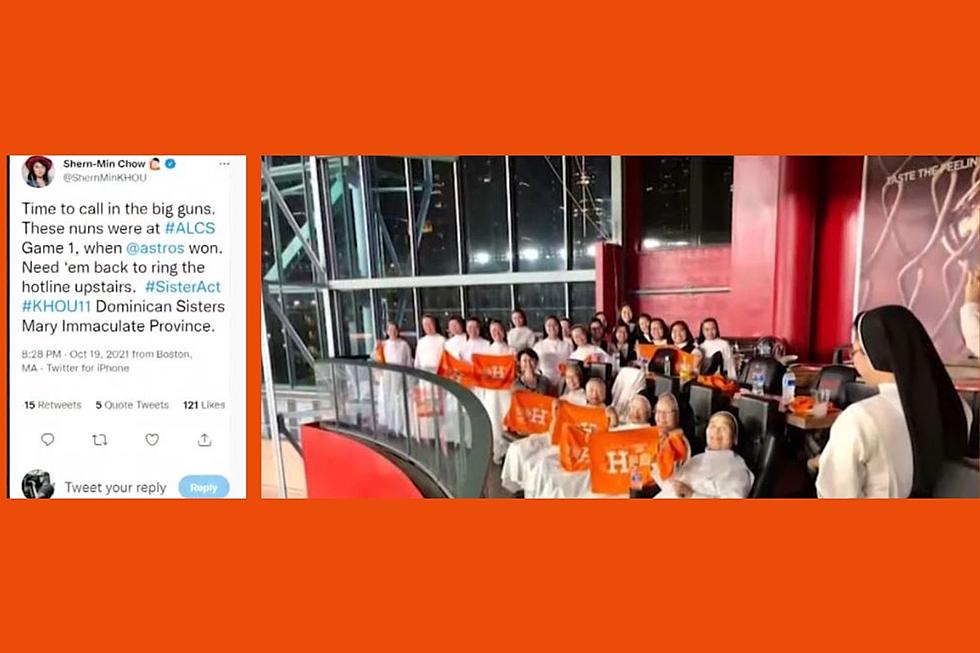 Astros 'Rally Nuns' are Back for Game 6 to Throw First Pitch
KHOU Youtube
 DIVINE INTERVENTION DURING GAME 1
During game 1 of the ALCS last week, a group of nuns was spotted in centerfield cheering at the top of their lungs.  It turns out those nuns were special guests. Thirty nuns from the Dominican Sisters of Mary Immaculate Province were invited by Jim "Mattress Mack" McIngvale and the Astros won 5-4 over the Red Sox.
It would appear the 'power of prayer was just enough for the Astros to rally and come back to beat the Red Sox during game 1. Some people have even taken to social media to bring the nuns back tonight for game six. It looks like Mattress Mack has also seen these posts.
---
---
THE 'RALLY NUNS' ARE BACK:
As reported by KHOU in Houston, Seventy nuns and a priest will be stationed in the Coca-Cola suite at Minute Maid Park for Game 6. One of the nuns will even be throwing the first pitch. Thanks once again to Mattress Mack!
"It's a big thrill to them to go out there," said Mack. "We secured a bus because a lot of them are elderly and can't walk a long way so we're going to let them off right in front of the place. They're going to have a good time." We love Mattress Mack!
CLOSE IT OUT TONIGHT
The Astros have a chance to close out the Red Sox tonight at Minute Maid and Mattress Mack wants it to be a 'walk-off' win.  I mean that is the most exciting kind of win. The Astros won two of three games at Fenway Park, giving them a 3-2 ALCS lead. Game 6 is Friday at 7:08 p.m. at Minute Maid Park under a closed roof.
The pitching matchup for Game 6 is Luis Garcia for the Astros will go up against Nathan Eovaldi for the Red Sox. The Braves currently lead the Dodgers 3-2 in the NLCS. Game 6 of the NLCS is Saturday in Atlanta. Let's go Astros!!!
TACKLE THESE: Check Out the Best Uniforms In Each NFL Team's History
Here are 50 of your favorite retail chains that no longer exist.