Taylor Swift Keeps a Framed Photo of Kanye West in Her Home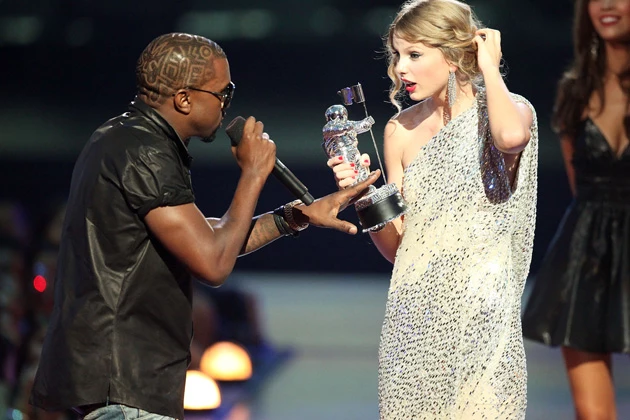 Superstar Taylor Swift keeps on surprising us through her revealing interview for the April issue of Vanity Fair, and she dished on a shocking item she keeps in her Nashville home… as motivation.
Apparently, the 'Begin Again' singer keeps a framed photo of the moment Kanye West crashed her acceptance speech for Best Female Video during the 2009 MTV Video Music Awards, according to W.E.N.N. She has it as a reminder of her journey to the top — which sounds like an interesting motivation method, and perhaps it adds fuel to her drive for success every time she walks past the photo.
While it's very clear that West has not forgotten that infamous evening, Swift has certainly made it to the top since then, becoming the only musician in any genre to have a Triple Platinum album in 2012.
If Swift keeps a framed photo of one of the most humiliating moments in her career, we wonder what else she has hidden in her Nashville penthouse, as the Vanity Fair article points out the 23-year-old resides with a "six-foot topiary rabbit" and a "koi pond in the middle of the living room."
Swift is just days away from the kickoff of her 2013 Red Tour, where she'll headline 58 shows in 45 cities. Who knows, maybe she'll take the West photo with her backstage as inspiration when she performs 'I Knew You Were Trouble.'
Source:
Taylor Swift Keeps a Framed Photo of Kanye West in Her Home