Country Artists Remember on 9/11 Terrorist Attacks Anniversary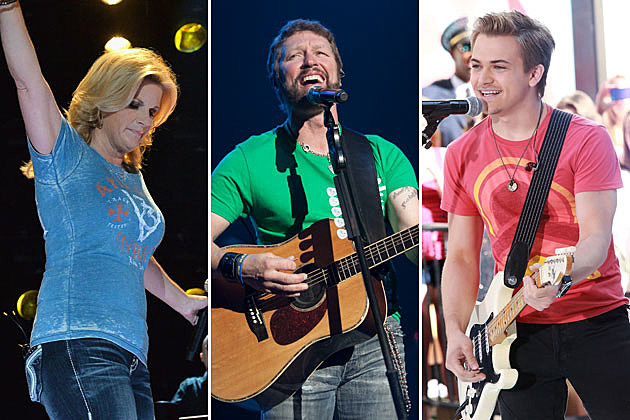 It's been 12 years since two planes hit the World Trade Center towers in New York City and a third crashed into the Pentagon in Washington D.C. Today, on 9/11, country stars like Josh Turner, Trisha Yearwood and Rodney Atkins are united in taking a moment to remember the victims of those terrorist attacks, as well as those who died when a hijacked plane crashed in a field in Pennsylvania.
Even stars like Hunter Hayes — who was just 10 years old on Sept. 11, 2001 — recall what they were doing that tragic day. The emotions come running back every time images of the Twin Towers are shown on television or pasted on the internet. They may be able to rebuild the structures, but they'll never replace the lives of the nearly three thousand people killed that day.
Today we remember, we honor and we continue to pray for peace and love. #GodBlessAmerica

— Hunter Hayes (@HunterHayes) September 11, 2013
Today I pray for the families & friends of those 2,977 people whose lives ended all too soon 12 years ago this day in NYC, D.C., & PA.

— Josh Turner (@joshturnermusic) September 11, 2013
Take a minute today to remember. If you pray, pray for the families who lost everything. Pray for the troops who… http://t.co/uaPbZqIrvD

— Trisha Yearwood (@TYcom) September 11, 2013
Today we morn for those lost in the Terrorist attacks. Let us not forget those who jump to help others our police firemen and military

— Craig Morgan (@cmorganmusic) September 11, 2013
Today we honor. And today we remember.

— Lady Antebellum (@ladyantebellum) September 11, 2013
God Bless all the men & women that showed such bravery and to all those that lost loved ones on #911 #NeverForget

— Rodney Atkins (@RodneyAtkins) September 11, 2013
We all have choices to make in life May we always choose to do the right thing and stand up for what we believe in Never forget 9/11

— Rhonda Adkins (@RhondaAdkins) September 11, 2013
Thinkin of the ones we lost this day 12 yrs ago. They'd be proud to know our spirit hasn't been broken & this remains the home of the brave.

— Cassadee Pope (@CassadeePope) September 11, 2013
I was headed to an economics class 12 years ago when those SUM BITCHES attacked us…still makes me clench my fists

— Frankie Ballard (@FrankieBallard) September 11, 2013
#letsroll is a powerful phrase to remember on this day. One plane fought back. That's bravery and sacrifice at its best. #neverforget

— Josh Abbott (@joshabbottband) September 11, 2013
Rembering all the lives lost on this day 12 years ago … Still so hard to fathom, even after all this time.

— Terri Clark (@TerriClarkMusic) September 11, 2013
Sending constant love & support out to all the 9/11 survivors & those who lost their dear ones, & NY's finest! We will never forget. #strong

— Heidi Newfield (@heidinewfield) September 11, 2013
Source:
Country Artists Remember on 9/11 Terrorist Attacks Anniversary