Frankie Ballard, Jon Pardi + Miss Willie Brown Will 'Tie One On' With Fall Tour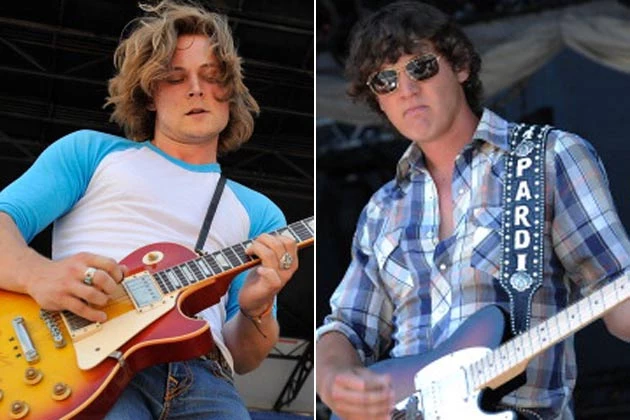 As the year winds town, country artists are scrambling to get in some last-minute face-to-face time with their fans on fall tours. Next up is the Tie One on Tour starring Frankie Ballard, Jon Pardi and Miss Willie Brown.
The new trek kicked off on Oct. 4 in San Diego, Calif. and run through December. And as all three acts are longtime road warriors with unique shows and material, the tour will be a surefire hit with the fans, offering a one-of-a-kind live show experience.
"I've had a blast visiting radio this year promoting my first single 'Missin' You Crazy,' and seeing the fans respond," says Jon Pardi. "It's gonna be a rowdy, beer-drinkin' good time!"
Adds Frankie Ballard, "I have always wanted to do an old school package tour. That's what all my musical heroes did back in the day. Piled into two Cadillacs and hit the highway! At least we get to do it on a bus. Jon and the Miss Willie Brown clan are great people, and I'm honored to share these dates with them … there'll be no shortage of fun, hell, we're tyin' one on right?!"
The new tour will be the cherry on top for Miss Willie Brown, who have already spent time on the road with many high-profile acts, such as Dierks Bentley and Josh Thompson.
"I think Willie Nelson said it best … 'just can't wait to get on the road again, the life I love is making music with my friends,'" gushes MWB's Amanda Watkins. "And we are looking forward to making some music with our new friends Frankie Ballard and Jon Pardi! I am hell bent on making this tour a leave your troubles at the door, good time, great music kind of party!"
"Our live show is such a huge part of who we are as a band," adds Miss Willie Brown's Kasey Buckley. "Another huge part is our fans. We are so grateful for them and getting to meet them at our shows and share our music with them really means the world to us. It's why we do what we do."
2012 Tie One on Tour Dates:
10/4 – San Diego, Calif. | Block No. 16
10/5 – San Miguel, Calif. | The Ranch*
10/6 – Henderson, Nev. | Henderson Events Plaza
10/7 – San Bernadino, Calif. | Brandon' Iron
10/9 – Anaheim, Calif. | The Ranch Restaurant & Saloon
10/11 – Folsom, Calif. | Powerhouse Pub**
11/2 – Auburn Hills, Mich. | Toby Keith's Bar & Grill
11/3 – South Bend, Ind. | Toby Keith's Bar & Grill
11/9 – Gulfport, Miss. | Jones Park
11/29 – Saint Louis Park, Minn. | Toby Keith's Bar & Grill
11/30 – Kansas City, Mo. | Beaumont Club
12/1 – Fort Wayne, Ind. | Neon Armadillo
* Jon Pardi and Frankie Ballard Only
** Frankie Ballard and Miss Willie Brown Only
Source:
Frankie Ballard, Jon Pardi + Miss Willie Brown Will 'Tie One On' With Fall Tour